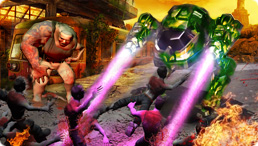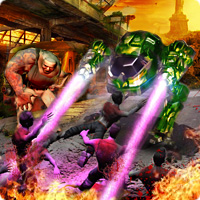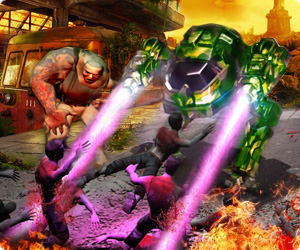 This game is brought to you by our sponsors. It is always free. NO TIME LIMITS!
You will be offered to install MyPlayCity Games Search Chrome Extension with convenient internet search.
Zombie Murder Hell Arrives
In mess? Angry? Wanna quarrel with somebody? Take your chance! Zombie Murder Hell Arrives is the game just for you! You have to defeat a lot of enemies to survive in this game. It seems that countless zombies overtake the whole place. You control a robot that can smudge the undead and mutants on the ground. Choose one of two - wheeled or stepping death machine. Initially robot is armed with large-caliber machinegun, but it is not enough. You have to collect weapon bonuses to make your fire more precise. You can pick up lightning gun, crusher, mirage cannon, dead ray, rocket launcher and a bit more. But you can fire your machine gun as well if you like it. And there is also a super weapon; you can use it time to time to get rid of megatons of enemies. There are life and speed bonuses. You will face giant cyber-bosses, zombies, large chainsaw-carrying zombies, undead giants, predator worms (that breed lesser but hungry worms) and all horrible creatures you cannot even imagine. For defeating monsters you earn currency that can be spent for a bunch of upgrades in the machine shop. Zombie Murder Hell Arrives has an awesome hardcore metal soundtrack that creates brutal mood. If you are a metal-lover, you can listen to it for pleasure of your own. The gameplay is catching and very dynamic. The visuals are very dark and gloomy, so be prepared for the battle in such an atmosphere. Download Zombie Murder Hell Arrives for free and vent all negative emotions on a zombie horde!