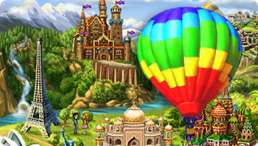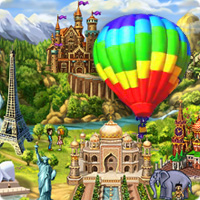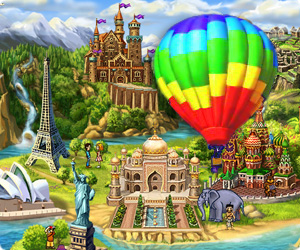 This game is brought to you by our sponsors. It is always free. NO TIME LIMITS!
You will be offered to install MyPlayCity Games Search Chrome Extension with convenient internet search.
World Voyage
You have won a trip around the world! But don't worry about the visas, tickets, travel insurance and lost luggage! With World Voyage you can visit all the world's most famous and beautiful places and sights just sitting at home and clicking your mouse. No money, no worries, only excitement of new discoveries. In World Voyage there are a hundred levels so you can travel as long as you wish. All you have to do is to solve the match 3 puzzles. Collect lines of three or more balls of the same color to eliminate them and get points. But the main task is to clear tiles and open locks. At the bottom of the playing field there are crystal spheres which are filled while you're getting rid of the balls. When the sphere is full you can use the special bonus it has. There are different types of power-ups - you can clear tiles, open locks, add time, hide tiles and use the roulette of fortune. Moreover, when you collect all the special tiles you can open the bonus level which is even more interesting and exciting. But don't get carried away with this fantastic World Voyage. You have to be careful and watch the time because if you don't solve the puzzle in time you will lose a life. And also don't forget to look at the combometer next to the puzzle: when it is full, there will be an extra-bonus rain. You have never seen it in any other games, have you? After you complete a level you get to collect a picture of a famous sight. Visit more than 20 of the most extraordinary places in the world without having to go out!
Features
20 famous sights from all over the world
100 of exciting levels
True-to-life animation
Special bonuses and extra-bonus rain
System Requirements
Windows XP
Processor 600 Mhz or better
64 Mb RAM
DirectX 9.0