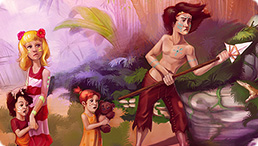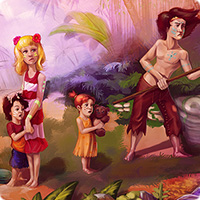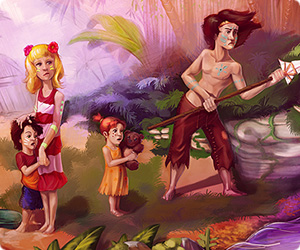 This game is brought to you by our sponsors. It is always free. NO TIME LIMITS!
You will be offered to install MyPlayCity Games Search Chrome Extension with convenient internet search.
Virtual Villagers: The Lost Children
Do you know what actually Virtual Villagers: The Lost Children is? Do you want to learn the story of 2 villagers, join them in their mysterious trip around the island and discover the secrets of the Isola's western shore. These brave men have made up their minds to walk through the green forests with tall trees and big bushes, go along the seaside and splash in the waterfalls. Nobody knows what they can find there. Such places are usually full of wild animals, exotic birds and even snakes invisible in the grass. But the weather is so pleasant, the warm wind is blowing, the songs of the birds can be heard and the sounds of the water make you feel relaxed. So you can't prevent yourself from travelling. You're going further and further, your soul and mind are filled with pleasant thoughts and bright emotions, you pick up some fruit and try them right on your way. Suddenly you stop in the middle of the forest. What is it? Who can be here, far from other peoples' houses? You're so curious that you're looking through one of the bushes and see children. Wow! Where did they come from? You come closer. They're everywhere. They're swimming in the lake, playing some strange games, singing songs and even building something. Try to talk to them! Virtual Villagers: The Lost Children has more surprises than you might think! Of course, these small inhabitants need your help. Make friends with them and try to teach the children all the necessary things to help them survive. The game provides you with perfect entertainment. Get pleasure with it, download Virtual Villagers: The Lost Children right now!
Features
Make friends with funny villagers
Travel around the island
Learn all the secrets
System Requirements
Windows XP/Vista/7
Processor 700 Mhz or better
128 Mb RAM
DirectX 7.0