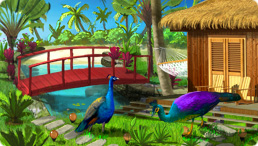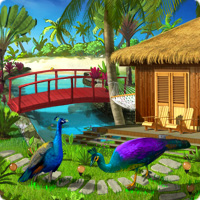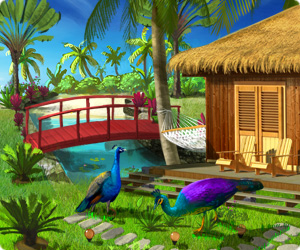 This game is brought to you by our sponsors. It is always free. NO TIME LIMITS!
You will be offered to install MyPlayCity Games Search Chrome Extension with convenient internet search.
Villa Banana
Try to construct a sweet house of your own in the highly dynamic puzzle game Villa Banana! Beautiful seashore on a quiet island is probably the best place to stay in, hiding from all that may set your teeth on edge. The house is too simple in the beginning, though, so should you be brave and skilled enough to solve challenging puzzles and receive gold! Exchange this shiny expensive resource for all you need to make your villa the best place ever. Improve lawn design and add fence to see where your private zone ends. Your pond is full of clear water but it strongly needs some lilies to become fascinating picnic decoration. Two dozen of cool items will improve the appearance of your Villa Banana while you are enjoying easy-peasy puzzles. Cool rules allow you to arrange tropical fruit in vertical, horizontal, or diagonal rows of 3 or more items. The fruit occupy silver and golden plates which you must destroy to win each of 60 levels. You have to include golden plates into rows twice to break them, so make your strategy wise enough to reach the goal as quickly as possible. Growing difficulty just enlarges your fun with each step. Set bananas, grapes, apples, and all other fruits in good way to prevent blocking, because those crazy units spawn in enormous quantities each time you move another fruit without completing a row. This game is so much captivating and funny you simply shouldn't stay away from it! Download Villa Banana absolutely for free and enjoy lazy tropic life in your personal secret place!
Features
Over 50 puzzling rounds
Awesome original gameplay
Great music
A lot of upgrades, and bonuses, and power-ups
System Requirements
Windows XP/Vista/7
Processor 1.2 Ghz or better
512 Mb RAM
DirectX 8.1