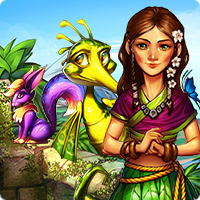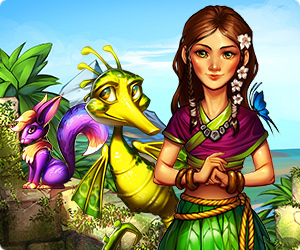 Este jogo é cortesia de nossos patrocinadores. Ele é sempre gratuito. SEM LIMITE DE TEMPO!
You will be offered to install MyPlayCity Games Search Chrome Extension with convenient internet search.
Moai V: New Generation
Use powerful magic to protect the beautiful island in the game Moai V: New Generation! Guide the young twins Hika-Ri and Kao-Ri as they go their separate ways on a journey that will culminate in the once-in-a-lifetime experience. As they gather the items and learn new skills, they need to perform a ritual that will save people from disaster, and your aim is to control them, while they are strategically gathering and managing resources, repairing villages, and completing quests for the natives. You will also unleash the power of nature to ward off hurricanes, droughts, and floods by drawing elemental signs on your screen. This innovative approach to casting spells will save your precious time as you race against the clock to earn achievements and find magic items that can help you complete levels even faster. Enjoy the dozens of levels set in lush tropical environments, eerie caves, fiery deserts, snow-capped mountains, and even in the underwater kingdom! The game Moai V: New Generation is packed with jaw-dropping visuals and animations, so don't waste time and launch it right now!
Destaques
Captivating levels
Awesome visuals
Detailed tutorial
Requisitos do sistema
Windows XP/Vista/7/8/10
Processador 1.4 Ghz ou superior
256 MB RAM
DirectX 9.0