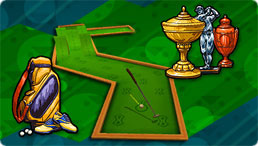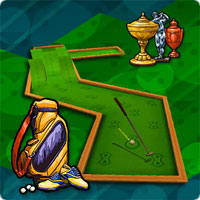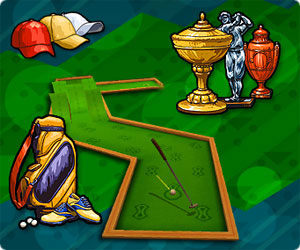 This game is brought to you by our sponsors. It is always free. NO TIME LIMITS!
You will be offered to install MyPlayCity Games Search Chrome Extension with convenient internet search.
Mini Golf
Mini Golf is a game where you can't win in a walk as well as you can't do that in reality. Despite the fact that mini golf is a scaled-down alternative of golf people who play this entertaining, exciting game have a lot of fun. At times it seems that only luck counts in this game. As a matter of fact, the one with patience, self-control, steady hand and strong ability to calculate could win. There are several different styles of courses in Mini Golf. Each playing field features a 9-hole golf course as well as original game does. Every next hole gets harder to pass than the one before. To accomplish a hole you need to put a ball into a hole on a field in the fewest number of hits. It seems to be easy, doesn't it? It would be simply if there were not all those tricky obstacles on your way that make your passing a hard-but-funny-to-do issue. On the other hand, if there were no insidious hills, bridges, rolls, curves, and banks, Mini Golf would lack something. Each of six courses has its own particular landscape and environment that defines playing field the best. Playing mini golf on the Castle field you will be surrounded by ancient castles, trees and bridges; trying to put a ball on the Circus field you will get a strong feeling that you are playing circus ring. Finally, whatever score you get playing Mini golf, don't forget that the main purpose in Mini golf is to have fun. Entertain and enjoy getting new achievements in mini golf. Good luck, sporto!
Features
6 magnetic golf courses
Extraordinary obstacles
Outstanding interface and original graphics
Amazing realistic ball's behavior
2 modes: course and fast start
System Requirements
Windows 98/SE/ME/2000/XP
DirectX 8.0
2 GHz processor
512 Mb RAM
32 Mb video card
DirectX 7.0 compatible sound card