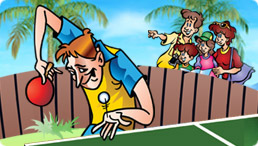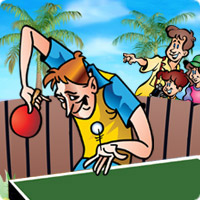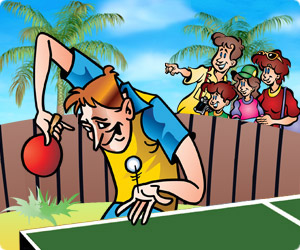 This game is brought to you by our sponsors. It is always free. NO TIME LIMITS!
You will be offered to install MyPlayCity Games Search Chrome Extension with convenient internet search.
Ping-Pong
Welcome a new Ping-Pong, which is known as well-quality 3D simulator. You may remember the rules of the popular short game and use them while choosing the single player mode or selecting "2 on 2" mode. Tennis table is ready, and what about you? In fact, great amount of people can play Ping-Pong virtually in the single player mode, and you may look for your favorite opponent! Everybody has his personal profile, so it's easy to find some information about each player. If you are sitting eye-to-eye with your computer, there is an opportunity to check your skills by selecting one of five game types: are you just training or having practice, or maybe there is some need to make Ping-Pong career or taking part in a championship? Besides, you are free to play in a "2 on 2" mode as well. Every type has its own advantages and disadvantages. For example, there are 6 stages in a training course and 12 tests in a career mode. Are you sure you are the best among 12 players? Get ready! Every opponent is proud of his rank and skill level. And do you know anything about your own ones? Try to increase it during exercising in Ping-Pong! After that you will become "Pro" or "Novice", "Master" or "Expert" - never too late to be professional! Moreover, there are a lot of various competitions and championships to raise your rank and skill level too. 8 players take part in 1 championship; multiplayer mode offers you 3 other opponents. So, never give up in such a useful simulator, besides, you may try your hand in another 12 bonus games. Earn more and more points to become the best player!
Features
Special music effects and in-built MP3
Multiplayer, single player, "2 on 2" modes
Different game locations
Visual effects and high gameplay quality
System Requirements
Windows 98/ME/2000/2003/XP
Processor 600 Mhz or better
64 Mb RAM
115 Mb of hard drive space
16 Mb of video memory
DirectX 9.0