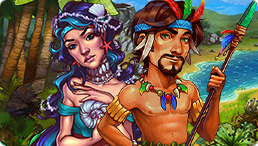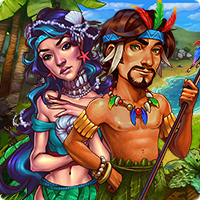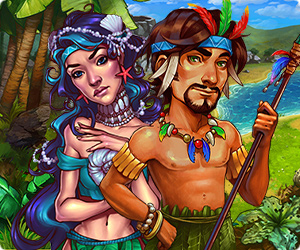 This game is brought to you by our sponsors. It is always free. NO TIME LIMITS!
You will be offered to install MyPlayCity Games Search Chrome Extension with convenient internet search.
Moai II: Path To Another World
Restore the ruined land and banish the evil Miru in the great time management game Moai II: Path To Another World! Are you ready to set out a journey to a distant continent and help the chief of Tapa-Tul tribe, whose wife was disappeared? What has happened to a blooming land and where is Bright Light, the chief's beloved? It's high time to check both your detective and explorer's skills! The chief and Bright Light was a happy pair of rulers, whose land was prosperous and rich, but Miru, the master of the world of dead was envious to see their happiness… And one night he decided to make mischief in Tapa-Tool's tribe and kidnapped Bright Light. So now the chief of the tribe should do his best to save his beloved and only you can help him! The Tapa-Tul chief must take up arms and pursue his adversary across three magical realms. He should also take up a hammer, a hoe, and a pickaxe because the malevolent Miru has destroyed all the structures in the nearby villages, so the houses of the villagers should be rebuilt! Do your best to restore the villages on your way to Miru lightning fast! To succeed, you'll need to gather food and other resources, and then use them wisely to finish the tasks that are set for you. You have a lot to do: restore fields, build houses, repair roads and bridges and gather resources, of course. You'll also need to defend your people against evil henchman and bizarre supernatural enemies. Prepare to travel Awaika, the domain of the dead to destroy Miru and his minions and set Bright Light free! Use strategy to complete tasks quickly, and a slew of achievements will be yours! With adventure to spare, an inspiring story of destiny, and gameplay that will hold you in a grip of excitement, Moai 2: Path to Another World is an instant classic! Get amazing achievements and become the savior of the Tapa-Tul tribe! Restore the villages on the way to the undead realm of Miru and help your villagers restore their house and return the kingdom its former glory while their ruler is far away searching for his wife!
Features
Intriguing plot
Several locations
Various achievements
System Requirements
Windows 98/2000/XP/Vista/7/8/10
Processor 1.5 Ghz or better
512 Mb RAM
DirectX 9.0