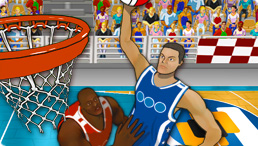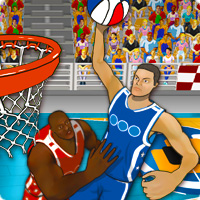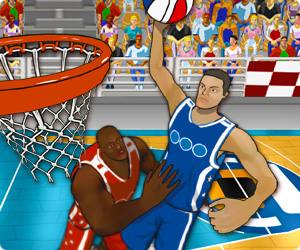 This game is brought to you by our sponsors. It is always free. NO TIME LIMITS!
You will be offered to install MyPlayCity Games Search Chrome Extension with convenient internet search.
Incredi Basketball
Are you fond of basketball? Do you prefer playing it yourself or watching the game on TV? Now you have a unique chance to play this wonderful kind of sports without leaving your office or home. Just download the game Incredi Basketball. The rules are simple: your goal is to throw the ball in the basket. There are two teams, five players in each. You can score either two or three points for each shot. The team with the most points wins. However, if the game ends with a draw, additional time can be added. You have to bounce the ball while walking or running or you can pass it to your teammate. There are many different violations or fouls in basketball: moving without dribbling the ball, disruptive physical contact and so on. For each violation you lose points or your opponents get a free throw. In Incredi Basketball the rules are very similar, however, there are many unique features that are not possible in the usual basketball. For example, you can use power-ups or super-moves such as Turbo, Hell Catapult, Spin Move or Shot Fake. In order to master all these incredible powers you'd better play the Training Mode first. Besides, there are also other types of the game: versus mode, tournaments, friendly match and custom tournaments. Incredi Basketball also has numerous mini-games and a special editor to customize the players. There are 18 teams to compete with and 4 various grounds. As you can see, the possibilities of Incredi Basketball are unlimited so you can play this fascinating game for hours!
Features
Lots of teams and courts
Excellent comments
Power-ups and super-moves
Different modes of the game
System Requirements
Windows XP/Vista/7
Processor 1.6 Ghz or better
256 Mb RAM
DirectX 8.1