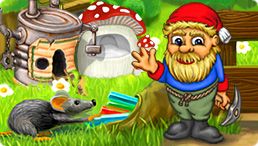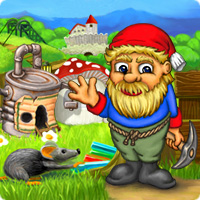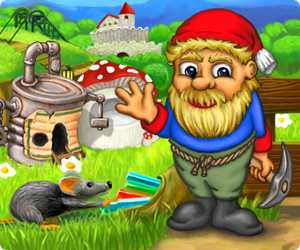 This game is brought to you by our sponsors. It is always free. NO TIME LIMITS!
You will be offered to install MyPlayCity Games Search Chrome Extension with convenient internet search.
Funny Miners
Introducing Funny Miners! Once upon a time, you, an old experienced wizard told a fascinating story to the younger gnomes. So, your quest for the magic gem began. You can find out the whole story which started that comic. Funny Miners is a strategy and tactics game. To be a leader of the gnome expedition is a real challenge. You should oversee many aspect of little community's life. You will have to mine gems, sell them at the market, fight against pests, take care about your workers and maintain discipline. Pests are various and very dangerous: sneaky rats steal gems, snakes bite your workers, flesh-eating plants try to swallow them and so on. And your workers are lazy and have to be directed constantly, healed from deceases, poison and to be fed as well. Their tools should be repaired from time to time. Buildings that perform all utilities must be upgraded if necessary. Sometimes you will have to go through obstacles like volcano eruption and mini-quests solving. And there is global gold earned in each mission. These supplies can be spent for global upgrades. The fascinating adventure will help you to develop your tactician skill. Funny Miners game has a catching storyline that is revealed to player as he passes mission by mission. And well-designed main character - a grumbling old gnome-wizard that constantly saves his dummy young companions. All game is a great fairy-tale painted as a good cartoon and told like a gripping story! Download Funny Miners for free and help little gnomes to discover their most desirable treasure!
Features
Gripping gameplay
Well-designed characters
Possibility to find the enchanted treasure
System Requirements
Windows XP/Vista/7
Processor 1 Ghz or better
256 Mb RAM
DirectX 8.0