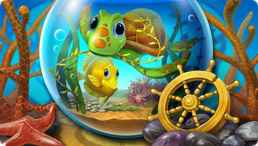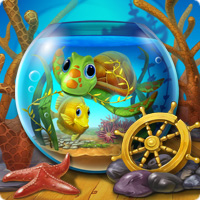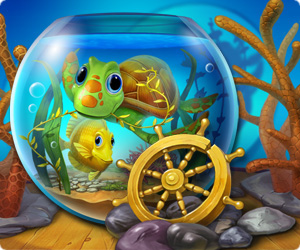 This game is brought to you by our sponsors. It is always free. NO TIME LIMITS!
You will be offered to install MyPlayCity Games Search Chrome Extension with convenient internet search.
Fishdom 2
Create your own aquarium and take care of fishies and turtles in a game Fishdom 2! You are to inhabit your fish tank with sea creatures and plants. There is a shop where you can buy everything you need: fish, sea plants and devices for the fish tank. There is a wide selection of sea creatures for the aquarium: blue discus, yellow tang, lionfish, turtles and more. But you need money to buy fish, plants and devices. You can earn money by playing a colorful Match 3 game. So there is a game within the game! With Fishdom 2 you will never feel bored! There are 2 game modes - "relaxed" (no timer) and "against the clock" mode (timed). Create matches of 3 or more by putting tiles in a row and clicking on adjacent pieces to swap. Create matches over golden tiles to collect them. The level is completed when all the golden tiles are cleared. The more tiles are matched the more bonuses you get! By the way, the tiles depict the sea world: fish, turtles, dolphins, sea weed, shells and more. After you have gained enough money in the mini-game you can buy more things for your aquarium. Watch the meters in the upper right corner: Fish, Beauty and Comfort. You need to fill the meters to earn a cup and gain access to a new tank, fish and ornament. You can also read Fishpedia where the funny facts are written. Upgrade your aquarium and create your own sea world in the game Fishdom 2!
Features
Excellent graphics
Cute characters
Colorful mini-game
System Requirements
Windows XP/Vista/7
Processor 800 Mhz or better
512 Mb RAM
DirectX 8.1