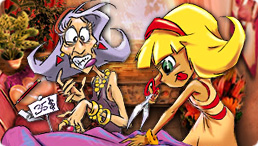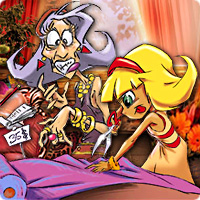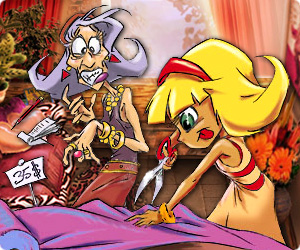 This game is brought to you by our sponsors. It is always free. NO TIME LIMITS!
You will be offered to install MyPlayCity Games Search Chrome Extension with convenient internet search.
Fashion Rush
Most of us don't know what to do and where to go after graduation. It is not about Satine, the main character of naughty Fashion Rush. Throughout her life Satine has always adored fashion clothes so when the time to choose the college came, she didn't hesitate and entered a fashion school. Satine, who is full of dreams about making outstanding clothing, studied hard and became one of the best graduates. However, reality is rough, and a newly-made fashion designer can't find a job. She thinks it's strange that to get a job she needs to have some experience. Fortunately, she has an aunt Zelma who owns a fashion shop. Satine makes up her mind to go and ask Zelma to give her a job. The aunt who looks somewhat lunatic is happy to hire her talented niece so she finally could achieve her dream to doze off during the working day. According to Fashion Rush, well-educated Satine starts working in Zelma's shop right at the bottom but she is eager to work in her beloved industry. The heroine of Fashion Rush can't even imagine how lucky she is to get a job there. Talented designer turns out to be a gifted manager. Since it becomes wide-known that a shop's acquired new employee and good-looking ready-made cloths are producing there, the store gets more and more visitors. Everyday life of workers, especially Satine's one, became intense so you have to help them to come through their Fashion Rush. In exchange outstanding designer and her snoring aunt will amuse you during all the game's entertainment.
Features
Over 80 levels taking your breath away
Interactive love story
Appropriate stylish items giving a spirit of fashion world
Fascinating teasing graphics
Fun mini-games
System Requirements
Windows 98/2000/XP/Vista/7
Processor 500 Mhz or better
128 Mb RAM
DirectX 7.0