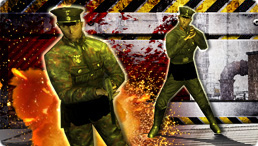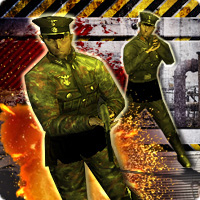 This game is brought to you by our sponsors. It is always free. NO TIME LIMITS!
You will be offered to install MyPlayCity Games Search Chrome Extension with convenient internet search.
Escape
Are you a great lover of shooters? Then you'll be happy to play the game considered as the real masterpiece of this genre! It's high time to start saving the mankind from turning into soulless murder weapon, because the threat of old but not forgotten insane scientific idea is obvious! Put down whatever you're doing and download the game Escape! You are the special agent whose job is global catastrophes prevention, so the future of the world depends on you and your crew! And you can't lose. Your next task is to travel into the past century and annihilate the largest Nazi laboratory, where the fanatical surgeons are at all pains to create super soldiers by implementing metal plates into the human's body. People couldn't bear such pain and most of the experimental species died on the surgical table during the operations and others who were lucky to survive after these tortures dreamt of death. In the game Escape your aim is to destroy all the guards and doctors of this pandemonium and level the death chambers to the ground. The cruel inhuman experiments on people's mind and body took place in the underground laboratory, furnished with state-of-the-art equipment, where the luminaries in science worked. So all the brutal experiments would be stopped, if you had destroyed the laboratory. They say, one man can't win a war, your mission is really complicated, because one person can't oppose to such a large and furious crowd of enemies. But you can win a war alone. And you'll do it! Pick up weapon and ammo, kill fascists and explode the laboratory! Play the game Escape and interrupt ferocious experiments on people!
Features
Perfect shooter
Thrilling plot
Easy navigation
System Requirements
Windows XP/Vista/7
Processor 800 Mhz or better
512 Mb RAM
DirectX 8.1