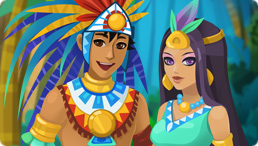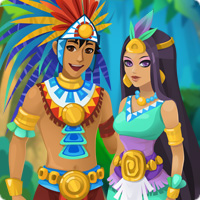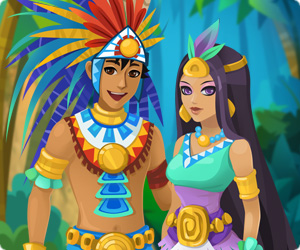 Dieses Spiel wurde von unseren Sponsoren präsentiert. Das ist immer kostenlos. KEINE ZEIT LIMITS!
You will be offered to install MyPlayCity Games Search Chrome Extension with convenient internet search.
Gems of the Aztecs
Help brave Gerasim deserve the hand of the beautiful princess Isolde in the amazing match 3 game Gems of the Aztecs! Are you fond of romantic stories where love is beyond all the prejudices? It's so nice when people from the various social categories can be together because they love each other! But unfortunately only a few of such love stories have a happy end. In the game Gems of the Aztecs you can help a desperate boy find the ancient treasures to get married with his beloved. A king of the tribe, Isolde's cunning father is against his daughter's marriage with poor Gerasim. So the only thing he can do to propitiate him is to find the incredible treasures of the forsaken civilization. Are you ready to join the boy in this reckless adventure? He won't be a success without your help, so launch the game Gems of the Aztecs just now! Dive into the world of the lost civilization and solve lots of puzzles where you are to match the identically colored gems to get great bonuses. If you are not afraid of difficulties, choose the game Gems of the Aztecs and have fun! Here you are to boost your mind while moving the precious gems of different colors: rubies, sapphires, emeralds and ambers. At the beginning of the level you get special tasks and if you are successful enough to cope with them, you get treasures. At first, the tasks are easy: you should for example complete 5 rows of blue gems in a limited number of moves. If you can solve the task in less amount of moves, you get a reward. But the difficulty will increase with the level, so you get a perfect workout for your brains without fail. Fulfill all the conditions to get 3 stars at the end of the level and get closer to the Gerasim's dream! There are several bonuses at your disposal: Shaman dagger, Chief's strike, Color hurricane and others. At the end of the level you'll see the score, so do your best to beat your own record and help Gerasim marry Isolde in the game Gems of the Aztecs!