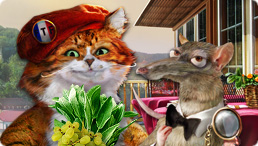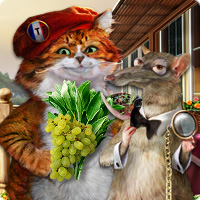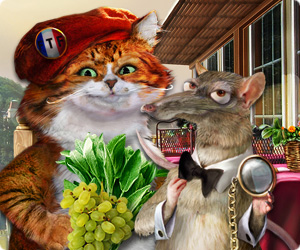 This game is brought to you by our sponsors. It is always free. NO TIME LIMITS!
You will be offered to install MyPlayCity Games Search Chrome Extension with convenient internet search.
Mystery Cookbook
Find all the pieces of the most famous cookbook ever in the amazing hidden object game Mystery Cookbook! Are you fond of cooking? Lots of people can call cooking their hobby because it's the most relaxing activity except maybe reading. While you are cooking, you are feeling like a creator who makes something delicious from the components that are not really tasty alone. But you should always keep in mind that you must cook only in good mood to get mouth-watering dishes, otherwise you'll get spoilt food. But if you have no opportunity to go cooking at the moment, launch the nice game Mystery Cookbook and help the smart Mouse become a skillful chef cook. Everything is not so easy, as you have already guessed. But no pains, no gains. At first, the Mouse will help the Cat on the kitchen as an apprentice: wash dishes, remove the mess on the table, find all the plates and later on the Cat will tell the story about his master. His followers were so jealous to each other's success that they have torn the master's cookbook with all the secret dishes into pieces and hide. But we are not looking for less travelled roads! Play the game Mystery Cookbook and help the hardworking Mouse become the most professional chief cook ever! The Cat says that the Baroness has a piece of a cookbook, so do your best to help the Mouse find it in the large mansion. You'll meet the Bulldog there, his old master is nearly fired because of his old age – help the master serve the table lightning fast for the impatient Baroness, solve lots of puzzles to find clues where to move next time and find the piece of the precious cookbook! Besides the nice hidden object scenes, there are lots of mini-games that you are to complete! Make a colorful picture from the randomly-thrown pieces, find all the matching shapes of the items and point out the differences between 2 similar pictures in the logic game Mystery Cookbook. Help the brave Mouse reveal the core secrets of cookery, find all the fragments of the mysterious cookbook and get smarter with tons of ravishing puzzles!
Features
Interesting plot
Lots of puzzles and hidden object scenes
Nice graphics
System Requirements
Windows XP/Vista/7
Processor 1 Ghz or better
256 Mb RAM
DirectX 8.0