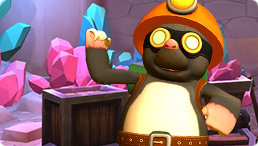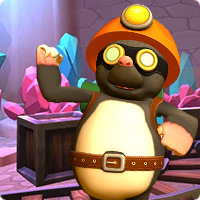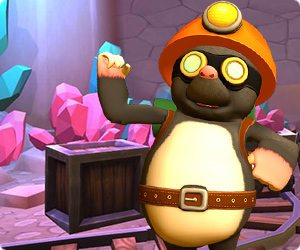 This game is brought to you by our sponsors. It is always free. NO TIME LIMITS!
You will be offered to install MyPlayCity Games Search Chrome Extension with convenient internet search.
Miko Mole
Help the brave mole collect all the diamonds in the breathtaking adventure game Miko Mole! Are you a true daredevil who is seeking for amazing adventures? In the game Miko Mole you are to help the small yet venturesome mole grab all the diamonds in dungeons filled with various traps and monsters. But Miko Mole is really brave, he is not afraid of difficulties. But he won't be able to overcome all the obstacles alone, help him not to be killed. You appear in the dark dungeon where diamonds are randomly placed. Your aim is to lead the main character Miko through the obstacles safe and sound and gather all of them. Miko Mole is courageous and charming little robber who is at all pains to become incredibly rich and he will do everything to be a success. So don't leave him alone! Miko isn't worried, though, because he has three things Evil Corp. doesn't: his trusty propeller pack, his ability to outwit the enemies, and a burning desire to become a master thief! Help Miko on his quest by thinking your way through cleverly designed levels, dodging deadly boulders, and using Miko's special abilities to solve puzzles in the game Miko Mole! There are lots of obstacles lying ahead, watch out! Boulders, lasers, machine guns… Miko can push boulders and they fall on the enemies. Just prevent them from falling on Miko otherwise you'll start the level from the very beginning. Escape from cameras and protect Miko from getting caught within the camera's view. When you see a press machine, be very careful! Its deadening doors can kill Miko, so do your best to pass through them lightning fast. Rotary lasers are also extremely dangerous, they can turn Miko into a handful of ashes. Machine guns can fire only when they are locked on to Miko. It's high time to show if you are skillful enough to cope with all the difficulties in the game Miko Mole! With 240 levels set in 6 dazzling worlds, eye-popping 3D animation, and toe-tapping music, Miko will grab every gem in the funny game Miko Mole!
Features
Various traps
Interesting gameplay
Original soundtrack
System Requirements
Windows 98/2000/XP/Vista/7/8/10
Processor 1.8 Ghz or better
1 Gb RAM
DirectX 9.0