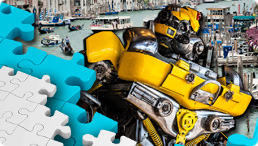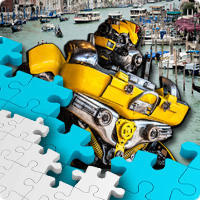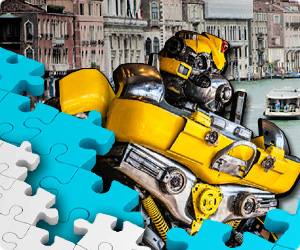 This game is brought to you by our sponsors. It is always free. NO TIME LIMITS!
You will be offered to install MyPlayCity Games Search Chrome Extension with convenient internet search.
Jigsaw Boom 2
Assemble pictures from puzzle elements and get all unique trophies in a game Jigsaw Boom 2! If you like jigsaw games then Jigsaw Boom 2 is your cup of tea. The variety of pictures really strikes the eye: there are pictures of breathtaking nature and city views, cute animals and birds, exotic flowers, beautiful cars, sculptures and even warriors. There are 4 different boxes where you can choose pictures you like. One of the unique features of the game Jigsaw Boom 2 is that you can not only choose a picture but also modify it. Change the number of pieces in the puzzle and their way of distortion. You can rotate the elements. In the upper left corner of the playing field there's a special pocket where you can store puzzle elements, thus creating some space on the playing field. Push the "Ghost" button and the chosen picture will appear in the background. If you try the "Image" button a small copy of the picture will be shown in the upper left corner. A magnifying glass will help you see the smallest pieces. If you want to assemble the border element first choose the "Border" button and all the center elements will disappear from the playing field. You can also sort the pieces out with a special button. If you are utterly lost, a hint will always help you. Play the game Jigsaw Boom 2 and get wonderful and unique trophies. You will be awarded a trophy called "Meditation" for 1, 5, 10 and 50 hours of playing. Become the "Puzzle Solver" for joining 10, 100, 1000 and 1000000 pieces! Get the trophy "Patience" for solving puzzles of 10, 100, 500 and 1000 pieces. Become the best player in the game Jigsaw Boom 2!
Features
Wonderful trophies
Striking variety of pictures
Ability to modify pictures
System Requirements
Windows XP/Vista/7
Processor 1 Ghz or better
512 Mb RAM
DirectX 8.1