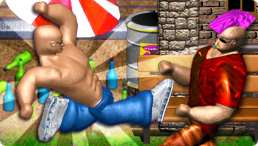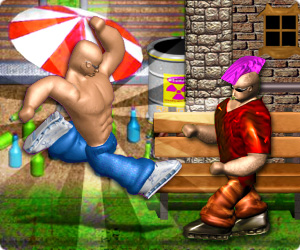 Questo gioco è offerto dai nostri sponsor. È sempre gratis. NESSUN LIMITE DI TEMPO!
You will be offered to install MyPlayCity Games Search Chrome Extension with convenient internet search.
Street Karate
Street Karate è un gioco di combattimento di strada, divertente e dinamico. Usa i pugni, per liberare le strade dai ragazzi cattivi. Niente pietà, devi dare il meglio di te! I controlli sono semplici, per attaccare basta un solo click, ma puoi anche dare colpi mentre corri o salti, creare nuove combinazioni di attacco e persino gettare i tuoi rivali molto più lontano di quanto possano aspettare! È un viaggio attraverso una varietà di livelli: strade, parchi, una fabbrica, la spiaggia e la battaglia finale su un ponte. Non lasciare impuniti i teppisti di strada, mostra loro il tuo Karate!
Caratteristiche
Combattimenti dinamici
Semplici controlli
Musica divertente
Requisiti di sistema
Windows 98/XP/Vista/7
Processore 1.6 Ghz o superiore
RAM 1 Gb
DirectX 9.0