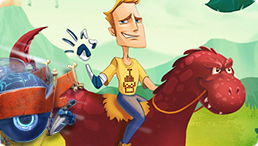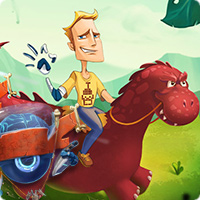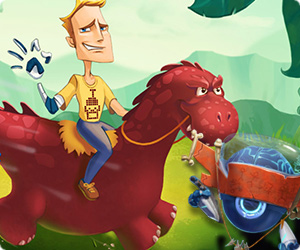 This game is brought to you by our sponsors. It is always free. NO TIME LIMITS!
You will be offered to install MyPlayCity Games Search Chrome Extension with convenient internet search.
Griddlers: Ted And P.E.T. 2
Enjoy the challenging griddlers in the amazing logic game Griddlers: Ted And P.E.T. 2! Are you a great lover of exciting Japanese puzzles? Now it's high time to enjoy the dynamic gameplay and new breathtaking levels with nonogramms! The game Griddlers: Ted And P.E.T. 2 will be a great gift for both professionals and newbies in this genre. A brave scientist Ted and his robot P.E.T. invented a time machine and head over to the prehistoric age. Travel back into the past together with the main characters in an exciting game Griddlers. Ted and P.E.T. 2! Choose the mode: Beginner or Expert and dive into the era of dinosaurs! You are to explore different eras and locations: Jurassic period, Cave drawings, Stone age, Ice age, T-rex den, Time gap. Don't waste time and you'll be a success! If you have never heard about griddlers before, you'll be undoubtedly surprised because the griddlers are special Japanese puzzles, where you should fill in necessary cells according to the numbers to make a picture. The main rule is that you should never try to guess a solution! Haste is your worst enemy, be attentive and you'll win. It's better to start solving the puzzle with the numbers equal to the number of squares in the row or column. You can fill out all of them without thinking twice. You can get 1, 2 and 3 stars for completing the level, so to unlock the next level you are to have at least 1 star. But if you'd like to explore all the locations, you should have a certain amount of stars. Don't forget that the better you cope with the level – the quicker you unlock new locations and get a great collection of trophies and rewards. Add to your collection such precious trophies as: Dino fan for the Jurassic period finishing, Modern researcher for the T-Rex period finishing, and Cold resistant for the Period Ice Age finishing. Become the Strategist for coping with five levels in a row without mistakes, and the Trickster for solving puzzles in less than 30 seconds. Play the game Griddlers: Ted And P.E.T. 2 and help the adventurers have fun in the eras of dinosaurs!
Features
Interesting plot
Numerous trophies
Several levels of difficulty
System Requirements
Windows XP/Vista/7/8/10
Processor 1 Ghz or better
512 Mb RAM
DirectX 9.0