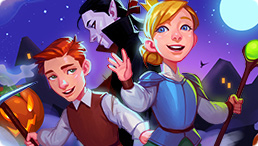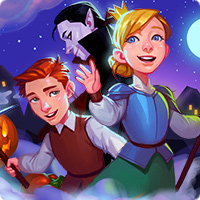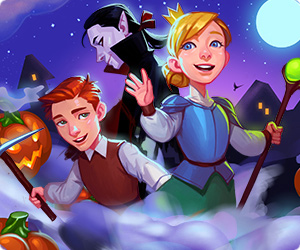 This game is brought to you by our sponsors. It is always free. NO TIME LIMITS!
You will be offered to install MyPlayCity Games Search Chrome Extension with convenient internet search.
Gnome's Garden: Halloween
Develop the mysterious lands and return the princess's uncle to his homeland in the game Gnome's Garden: Halloween! The eerie yet amazing holiday is coming and all the mystical creatures are happy to celebrate it! But Vlad, the ruler of the distant lands, has disappeared without a trace and only this brave girl can find him. Help her because she won't manage to cope with everything alone. And she has a lot to do: zombies, werewolves, and golems can do nothing by themselves, so get ready to work hard and restore the devastated lands. Hire workers and build sorceress's house, stock up crystals, and grow crops the fastest possible. There are lots of levels in the game Gnome's Garden: Halloween, plunge into them and show everybody who is the most skillful master of strategy. Mysterious beings and events await in the thrilling casual fantasy game, don't miss a chance to try your luck and return the gloomy lands its fame and prosper. Build structures to make the production of resources quicker and feed workers to raise their motivation. Don't forget that the blocked path won't let the workers get into the necessary territories and some of the goals won't be complete. That's why while removing the obstacles you kill two birds with one stone – clear the way and get wood that is always in great need. Complete the missions and get closer to the place where the uncle Vlad is jailed, and the minions will make your way less dangerous. Only you can break the evil witch's spells and return Vlad back to celebrate Halloween together. Return the land its former prosper and gain respect among the other-worldly creatures in the great game Gnome's Garden: Halloween! Nobody can even imagine that ghosts, vampires, and werewolves can be kind and helpful but you can be assured that it's a fact, not a fiction. Finish the multitude of goals, return the ruler back to his lands and become the honorable hero!
Features
Amazing story
Addictive strategy game
Nice graphics
System Requirements
Windows XP/Vista/7/8/10
Processor 1 Ghz or better
512 Mb RAM
DirectX 9.0