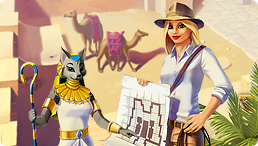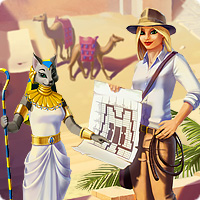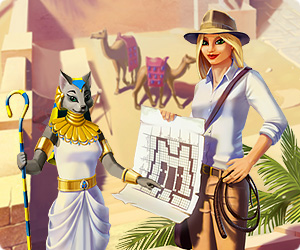 Este juego te proporcionan nuestros patrocinadores. Es siempre gratis. ¡SIN LÍMITES DE TIEMPO!
You will be offered to install MyPlayCity Games Search Chrome Extension with convenient internet search.
Egypt Picross: Pharaoh's Riddles
Explore 6 Egyptian wonders and solve puzzles to get precious trophies in the logic game Egypt Picross: Pharaoh's Riddles! Are you fond of mysterious history of Egypt? Now you appear in the epoch of pharaohs, so don't waste a minute and start exploring the amazing wonders of Egypt right now! But unfortunately only one of them is left now – the Pyramids of Giza, but in the game Egypt Picross: Pharaoh's Riddles you get a unique chance to observe 6 of them. Which ones? Launch the game and you'll see! Are you familiar with nonograms? It's a kind of Japanese puzzles where your aim is to fill in necessary cells according to the numbers to make a picture. If you are a novice in griddlers, look through a detailed tutorial here with all the hints of playing nonograms and you'll like it without fail! You are to fill in all the necessary squares in the grid to complete the puzzle. The rules are simple: just look at the numbers and fill in the squares to get a pattern. Horizontal lines (rows) are read from left to right while vertical lines (columns) are read from top to bottom. Follow the main rule of solving griddlers – never try to guess a solution! You can get 1, 2 and 3 stars for completing the level, but each mistake takes away 1 star, so be attentive and don't be quick! 120 unique puzzles in the game Egypt Picross: Pharaoh's Riddles are made for a challenge for true adventurers, can you call yourself one of these daredevils? What's waiting for you at the end? Incredible treasures, of course! Check if you are skillful enough to overcome all the difficulties and outrun the competitors to get the pharaoh's treasures! Use hints if you are stuck and replay the levels if you have too many mistakes. Get Successful Archeologist trophy for completing 3 levels in a row without hints or Sharp Shooter for 5 levels in a row without mistakes. Such trophies as Talisman of Luck, Ancient Coin or Golden Sarcophagus are locked, complete exploring locations to add them to your collection. Develop your logic skills while playing nonograms in the absorbing game Egypt Picross: Pharaoh's Riddles!
Características
Challenging puzzles
Helpful hints
6 Egyptian wonders
Requisitos del sistema
Windows XP/Vista/7/8/10
Procesador de 1 Ghz o superior
512 MB de memoria
DirectX 9.0