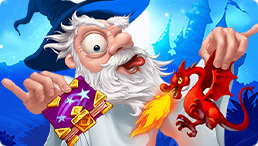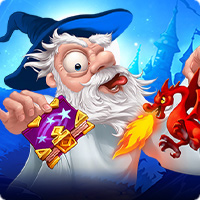 This game is brought to you by our sponsors. It is always free. NO TIME LIMITS!
You will be offered to install MyPlayCity Games Search Chrome Extension with convenient internet search.
Doodle God: Fantasy World of Magic
Combine elements to get new ones and start the evolution in the logic game Doodle God: Fantasy World of Magic! Are you ready to try on the powers of the Creator? Or are you afraid of being unsuccessful? Launch the game Doodle God: Fantasy World of Magic and start the evolution right now! Of course, the universe was not created in a day. You are to spare enough time to combine lots of elements from several groups to get a new one. Match elements thoroughly and you'll be a success. Seems difficult at first. But don't worry, you are not alone on this cosmic journey! Every time you successfully create a new item you'll be awarded with the wit and wisdom of some of the greatest philosophers and comedians of all time. These quick-witted quotations will entertain you and cheer you up. So what are you waiting for? Unlock 2 groups of elements, combine 2 random elements and reveal a brand new element that can be matched with other elements. Create new elements and get unique achievements and trophies in the game Doodle God: Fantasy World of Magic! Have you ever imagined that Life and Void reveal Chaos and Order? While Art plus Human will give you such elements as Knowledge, Music and Religion. It's only an example, there are tons of variants in the game. Combine Fire and Void to get Life and Energy, while Chaos and Discipline will bring you Heaven and Pandemonium! There is a lot of fun in this amazing game, so start playing right now and reveal perfectly-designed hidden object scenes: visit the cave in the Stone Age, join the knightly tournament in the Middle Ages and get to the nearest future in the Modern Age. Find lost items from the list and get amazing rewards! Extra hints and chances to craft an artifact will be really helpful! There are several types of hints available for you: a hint that unlocks a new element, highlights the group of elements where you can find an active one, and shows the element which can be evolved from two. Choose what you want! Have fun in the beautiful logic game Doodle God: Fantasy World of Magic and create the world from the very beginning!
Features
Perfect graphics
Lots of elements to discover
Nice hidden-object games
System Requirements
Windows XP/Vista/7/8/10
Processor 1.6 Ghz or better
1 Gb RAM
DirectX 9.0