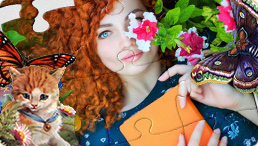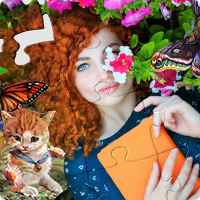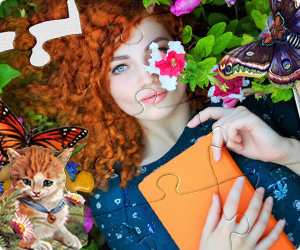 Dieses Spiel wurde von unseren Sponsoren präsentiert. Das ist immer kostenlos. KEINE ZEIT LIMITS!
You will be offered to install MyPlayCity Games Search Chrome Extension with convenient internet search.
Jigsaw Puzzle. Women's Day
Enjoy the colorful spring jigsaw puzzles in the captivating logic game Jigsaw Puzzle. Women's Day! All of us are now able to return to the most beautiful spring holiday – the Women's Day and celebrate it again while joining the pieces of puzzles. So if you are tired of bothersome daily activities, launch the game Jigsaw Puzzle. Women's Day and get back to spring holidays! There is over 500 of amazing puzzles at your disposal, so don't waste time and start solving pictures! Visit a fashionable photo session, look through a cute family album, enjoy all kinds of hobbies, admire the beauty of spring nature and discover the secrets of culinary masterpieces! All this awaits you in the new game Jigsaw Puzzle. Women's Day! You can configure a difficulty level to suit you for each jigsaw, so both professionals and amateurs will have in this absorbing game. Don't worry if you have no time to complete the puzzle, save your progress and return when you'll have time! At the end of the level you'll get a marvelous picture that will be saved in your record list. There are several packs of puzzles at your disposal: Fashion, Family, Hobbies, Nature, Cuisine, so you'll find a lot of interesting pictures inside. Try to complete all of them to have the unlimited fun ever! Each puzzle can be modified to your liking — turn an easy puzzle of 12 pieces to a complicated one with more than 200 pieces. So everything is up to you: set the number of pieces for each puzzle, the way they are cut and the possibility to rotate the pieces. Use the "Ghost" to get a transparent view of the picture or "Magnifying glass" to examine all the details on a small piece of puzzle. But if you haven't got the slightest idea what to do, use a hint. The necessary pieces will be highlighted and you can continue the game. Solve the puzzles and get precious trophies such as Master of Jigsaw for solving a puzzle of at least 200 pieces without hints and tools and others, for example, Puzzle Solver and Inconstancy. Celebrate the beautiful spring holiday and get a collection of fascinating pictures and unique trophies!