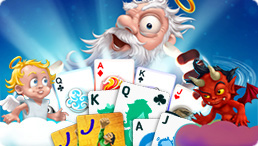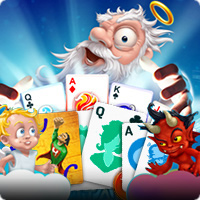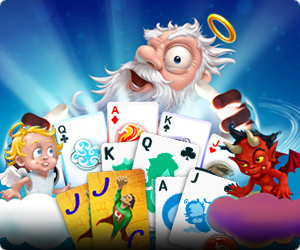 Dieses Spiel wurde von unseren Sponsoren präsentiert. Das ist immer kostenlos. KEINE ZEIT LIMITS!
You will be offered to install MyPlayCity Games Search Chrome Extension with convenient internet search.
Solitaire: Doodle God
Unleash your inner god-like powers and take part in creating the world in the captivating board game Solitaire: Doodle God! Have you always been dreaming about getting the super powers of a real God? It's an undertaking but if you can cope with lots of difficulties on your way, you will undoubtedly be a success. Try on the magic of creation and help the God to create the world in the amazing card game Solitaire: Doodle God! The creation of humanity and 120 perfect solitaire levels is unique combination for any solitaire fan! Start your way from the simplest microorganisms and create animals, mechanisms and entire armies! The ability to create the world is now entirely in your hands! Enjoy classical solitaire improved with a nice game mechanic and collect pairs of cards to get perfect trophies! A special multiplier increases your reward if you find card pairs quickly. So do your best to fill it lightning fast. Play solitaire and find two cards of equal value to get prize score and collect trophies. The rules are simple enough, you can remove the cards of the same rank regardless of their suit. Besides ordinary cards you can see special golden cards. But if you manage to get rid of all of them before the cards return to the deck, you'll receive the maximum number of points. During the game you get bonus cards with special sign – if removed, they give you extra coins or bonuses. If you are in dead end, you can always use a bonus. There are 3 of them: Shuffle, Mulligan and Joker. Shuffle will mix all the cards and place them to the game board again, Mulligan will cancel your last action and Joker will turn any card to Joker to help cards match. Collect the required number of golden cards and use them to unlock the following packs. Explore lots of picturesque locations in the game Solitaire: Doodle God such as Water, Cell, Herb, Mammal and Human and develop various Professions, Technologies and Space! Gather a unique collection of perfect trophies and develop the world in the game Solitaire: Doodle God!