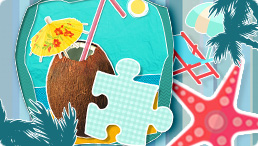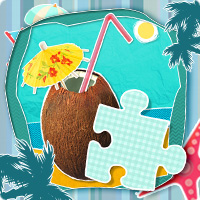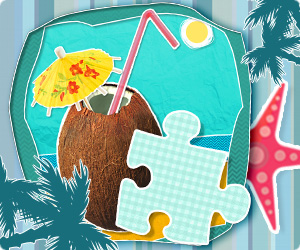 This game is brought to you by our sponsors. It is always free. NO TIME LIMITS!
You will be offered to install MyPlayCity Games Search Chrome Extension with convenient internet search.
Jigsaw Puzzle: Beach Season
Complete lots of amazing puzzles to get smarter in the nice game Jigsaw Puzzle: Beach Season! Do you want to set out a journey but haven't chosen the cities yet? Play the game Jigsaw Puzzle: Beach Season and find the best places for a peaceful and relaxing vacation and where adventure-seekers can go for active rest. What do you prefer most: sunbathing, go sightseeing or anything else? What about wakeboarding, shopping or solving colorful puzzles? Try something new to make your life brighter! We offer you a nice chance to practice in making pictures from randomly thrown pieces. Several themes of puzzles are available for you: choose what you like most! Beautiful views of Nature, various dishes in the Food theme, beloved couples and romantic pictures in Romance or multicolored guitars of nice clothes in Shopping – which picture would you like to match? You can find a quick relaxation with 12 fragments of puzzle or a long-lasted fun with up to 225 pieces, you can just spend the whole day matching the puzzle pieces. Have you ever played alike games? It's not difficult at all – there are several packs of cards at your disposal, choose the favorite theme and difficulty (up to 225 pieces with a possibility to rotate) and start playing. Spend earned money to power-ups, they will be helpful when you are stuck. Moreover, if you want to create your own puzzle – you can do it! Just choose the picture and make your own puzzle with a definite number of pieces. If you are a true geek, we recommend you cope with a puzzle from 225 pieces! You'll never forget this fun! You can also activate a setting of puzzle curves to make your puzzle more complicated. If you are out of time – just save your game progress and return to it later. Enjoy the gameplay and try to achieve numerous trophies in the game Jigsaw Puzzle: Beach Season! Do your best to complete the puzzle without hints, rotations and other bonuses – and you'll get to the top of the record list. Escape from the everyday routine with the game Jigsaw Puzzle: Beach Season and have a rest with beautiful puzzles!
Features
Nice themes of puzzles
Interesting tasks and colorful trophies
Puzzles of various difficulty
System Requirements
Windows XP/Vista/7
Processor 1 Ghz or better
512 Mb RAM
DirectX 9.0