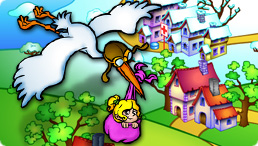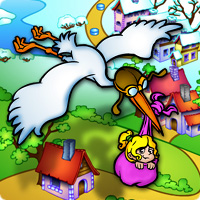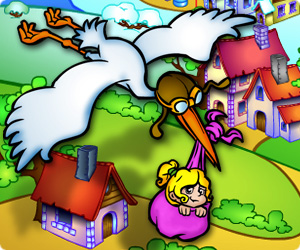 This game is brought to you by our sponsors. It is always free. NO TIME LIMITS!
You will be offered to install MyPlayCity Games Search Chrome Extension with convenient internet search.
Baby Blimp
Baby Blimp is a highly addictive family-friendly management game. Here you will become the Stork in charge at the Baby factory. You must know that babies are delivered by storks! So now you will get a unique chance to become the part of their professional team and prepare the babies for being delivered to the waiting parents. Your task is not at all an easy one! You will have to manage many babies at the same time. Some need to be fed, some wish a toy, others want a bath or are desperate for a nap in a comfortable bed. And all that is at the same time, can you imagine it? In Baby Blimp you can become a professional baby-sitter! If you manage to cope with the multiple tasks, you win different bonuses, rewards and trophies. For example, if you get a certain amount of points, you can purchase one of the devices which will make your job much easier: choose between the upgraded washing robot, food machine or extra comfort bed. All the babies are very demanding. They are constantly crying and need your attention. You will be running around, mad as a hatter so you might want some rest. If you have enough points, you can push a special button which will pause the baby line for some time. While you are watching after the babies you can make different combos and earn additional points. In Baby Blimp you'll find a special map on which you can keep track of your achievements and all the different levels you've already completed and still need to complete. Welcome on board of Baby Blimp!
Features
Great animation
Fun for all ages
Various upgrades
Family-friendly
Encouraging music
System Requirements
Windows XP/Vista/7
Processor 1 Ghz or better
512 Mb RAM
DirectX 8.1