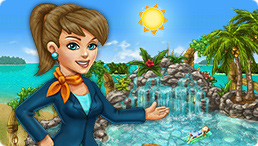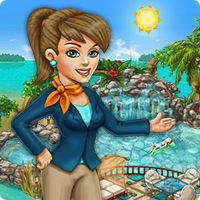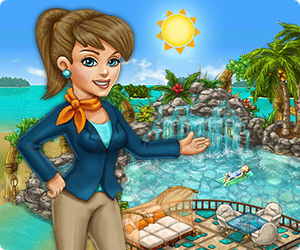 This game is brought to you by our sponsors. It is always free. NO TIME LIMITS!
You will be offered to install MyPlayCity Games Search Chrome Extension with convenient internet search.
My Sunny Resort
Provide the clients with the perfect holiday service in the game My Sunny Resort! Who doesn't dream of sun, sandy beaches and palm trees? Listen to the soft rushing waves as they roll ashore, let the ocean breeze dance across your feet as you lie comfortably in the sun, and enjoy the wonderful weather. If you want a fun way to escape the stress of everyday life, a holiday in My Sunny Resort is just the right thing! Have you ever dreamt of becoming a manager of the resort empire? In the browser game you'll have a chance to become the wizard who is responsible for the guests' holidays! Are you ready? Then let's start right now! You appear on the small yet picturesque island with a large seashore, so as you have already guessed, you are to build there several bungalows to attract visitors to the island. At the very beginning you have some sum of money but later on you are to earn it by completing quests and from the satisfied visitors. Build bungalows and equip them with everything necessary because nobody will pay just for a house! You are to build various kinds of bungalows: from cheap and small to presidential – at the very beginning build cheap bungalows and late on more expensive otherwise it's senseless. Don't forget to equip your bungalows with a shower and a bed. After that you can start building various snack and cocktail bars. Build a snack bar for $1000 and a barbecue restaurant for 30 000$. When you reach the level 32 you'll get a chance to build a marvelous Seafood restaurant to entertain your visitors. Think of their leisure and think where you can place a cinema, a library and other places for entertainment! Soon a first guest will arrive, and later on there are lots of them. Be a hospitable host and let your guest have a rest on your marvelous island in the great game My Sunny Resort! Don't stop, upgrade the bungalows, shops and bars to create for your guests the best holiday ever!
System Requirements
Windows XP/Vista/7/8/10
Processor 1 Ghz or better
1 Gb RAM
DirectX 9.0