No wonder Zuma - designed by PopCap - has been cloned several times. Being a good mixture of absorbing gameplay and outstanding graphics it appeals to everybody who enjoys action in all senses. The game has been such a success that now it's nearly impossible to find anything more popular.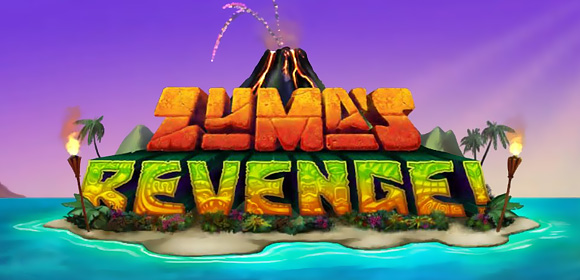 However, its opponent has been already developed and improved by PopCap and is called Zuma's Revenge. So, what is it actually about? From the very beginning you get absorbed with the atmosphere of Amazon Jungle. The sound and the graphics bring you somewhere to the wild rainforest. Here you meet your old friend - the frog from the first version of Zuma. This time the frog finds herself at the shore and faces a creature that is likely to be an evil spirit. And this is how the developers give you a hint: beware of the evil you're going to fight against.
Then you watch the movie and the game begins. Your main task here is to clear the strings of colorful balls before they reach the skull. Aim at the strings and shoot the balls so that three or more of them are matched together for you to make the string shorter. After that get the next ball and go on. Look at the frog's back to see the color of the following ball. The current and the following ones can be exchanged - just click on them with the right mouse button. Do it once again to restore the color.
You'll also come across special bonus stones which differ from the ordinary ones in shape and color. Shoot them to get helpful power-ups - for example, make the strings move slower or backwards. You'll see how useful they are when the golden skull is approaching and you have practically no time left. And to destroy all the balls no matter what color they are you need a bomb. A laser is available to get rid of single balls. Want to clear more than one layer of balls? You'll find a cannon for it. The balls of one definite color can be also destroyed with the lightning.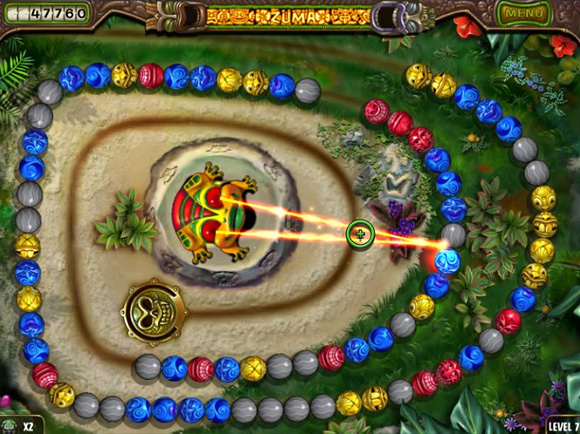 What makes Zuma's Revenge differ from its predecessor is the frog's position - it is not necessarily placed in the center but also slides up and down along the track. The other improvement in Zuma's Revenge will be even bigger surprise: each 10 levels you'll fight against the boss! Will it be that easy for you to win? Not only should you look after the balls which go right into the skull's mouth but also avoid your rival's blows.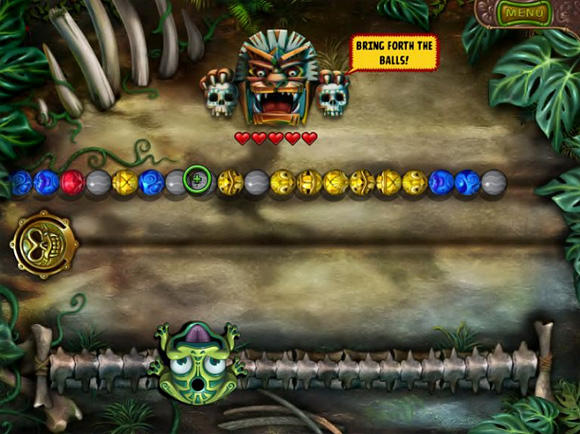 One more opportunity of the Adventure mode is that Zuma's Revenge allows you to pass level by level playing it. But what if you don't like adventures? Then you can choose Challenge mode instead: collect as many balls as you can in 3 minutes but you won't be able to play other modes till you succeed in each of the Adventure levels.
No matter which mode you may choose you'll dive in the atmosphere of the jungle with wonderful music and sound effects. You'll be amazed when your most successful blows will be praised with the Indian cry. Still may you not lose! You'll hear such a terrifying shout that you'll do your best not to experience it once again.
All these improvements helped PopCap's developers create such an atmosphere in Zuma's Revenge that no doubt you would turn to it again and again. Being rather simple and having no sophisticated plot its bright and dynamic gameplay has made Zuma's Revenge one of the most successful casual games. That's why it is worth being recommended all time-killers!