Winx Club animated series are really popular among schoolgirls nowadays. These young modern fairies study at Alfea School of magic and fight against the evil. No doubt that Stella, Flora, Tecna, Musa, Layla and Bloom are familiar to your daughter or niece. Young ladies do not only watch TV-series, but also collect Winx dolls and play online-games with their favorite fairies. They don't miss a thing about this Winx-industry.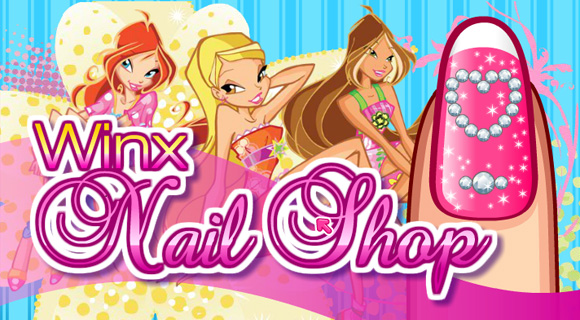 Young girls feel at home at winxclub.com where they learn Winx story and watch favorite animated series. They can even read articles written by Winx! Here you can learn to dance with Layla and decorate your room with Bloom helping you. Comment on the articles, chat with friends and feel like one of the fairies!
And what pleasure it is to play games which you can find on this website! This time we are going to review one of them - Winx Nail Shop. There are practically no girls who don't take utmost care of their nails. That's why your little princess will be happy to spend an hour playing this game where an enormous collection of nail polishes will be at her disposal. All the dreams of wonderful nail designs will come true with Winx Nail Shop. And special Time Mode makes the game even more exciting.
What makes the game so pleasant to play is its interface. With bright design and user-friendly navigation Winx Nail Shop attracts your attention from the very beginning. First, you have to choose the mode. Create your own design in Quick Play mode no matter how much time and how many attempts it will take you.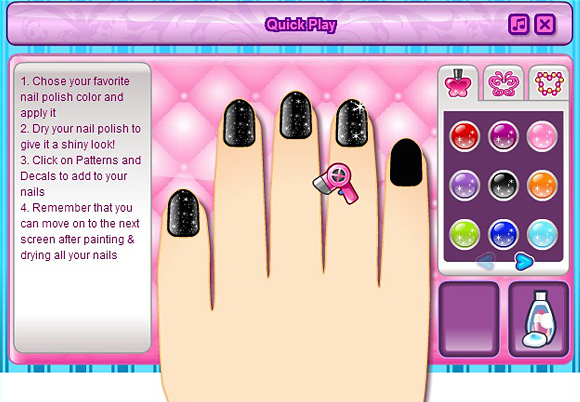 Painting nails is not an easy task - there are plenty of nice polishes to choose. For glamorous twinkling nails dry them after it. And the whole fun is in decoration your nails with cute little hearts, strasses, butterflies and pendants. Be creative and your nails won't leave indifferent even the most fastidious girls!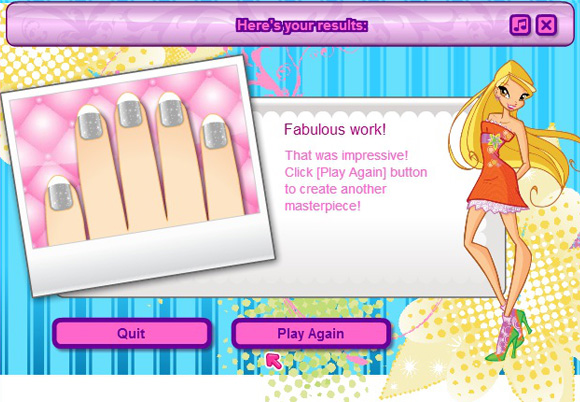 But what if you still don't like your design? Remove it with the nail polish remover but remember that you'll have to create a new design from the very beginning as it's impossible to change some particular details.
Soon you'll be able to make the nails wonderfully polished at once. Then it's time for you to work hard. Do you want something really exciting? Challenge mode has a special task in store. Here you serve the clients and your time is limited. Tastes differ you know and you should be ready to do everything from simple polishing to something really extraordinary. You can find desired designs on the left and see the time given around your client's image. Not only you have to meet the needs of the customers but do it in time. Will you cope with it?
Remember that you're trying to get better score and high rank. Do you want to see your results in the rating? Just log in on the website and try to become the best.
Not only young princesses find it capturing and entertaining to play Winx Nail Shop. Their elder sisters will definitely like to compete with the others in their skills of pleasing the clients and creating awesome nail designs. With Winx Nail Shop all your sweetest dreams of your own nail shop come true! This game is a perfect chance for you to show your artistic talents and develop your sense of beauty!
Though the gameplay is too simple Winx Nail Shop is good enough to spend an hour or so. And young girls will find it just amazing to rest in the company of their favorite TV series friends.