Seafight is a browser game developed by Bigpoint in 2006. Since that time over 32 million gamers in 30 countries have become fans of these pirate warfare. It's not surprising that the game is still popular among those who like to spend hours in front of there computers: both impressive battles and opportunity to win the gold makes the game attractive and capturing. Even some drawbacks like poor graphics can't prevent real fans from fighting against each other at sea!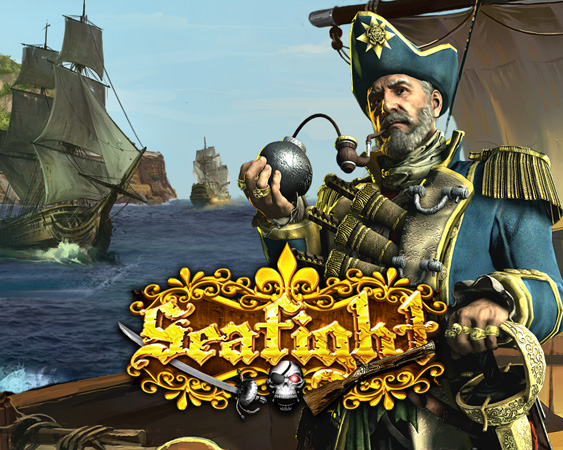 Seafight gives you opportunity to become a pirate and a captain of the big ship and the only owner of great treasures. Of course, you can't get everything at once so some time should pass before you turn into a pirate from a simple sailor. But now it's even difficult to imagine how many wonderful adventures are in store for you! You'll fight against experienced pirates, kill various sea creatures and enjoy pirate freedom.
Bigpoint developers have done a lot for the newcomers and that's why nobody will bother you for 24 hours after you log in the game. However, you also won't be able to injure even a fly. But do you really need it when there are so many things to learn and the game mechanics is so unfamiliar to you!
When you get used to the rules and become an active player in Seafight you start getting experience scores or even gold for the completed tasks and hostile ships which you managed to run down. Level by level you'll become more experienced and your ships will become more powerful. The first few levels can't be called very exciting and the tasks seem to be monotonous but is there any other way to develop your skills?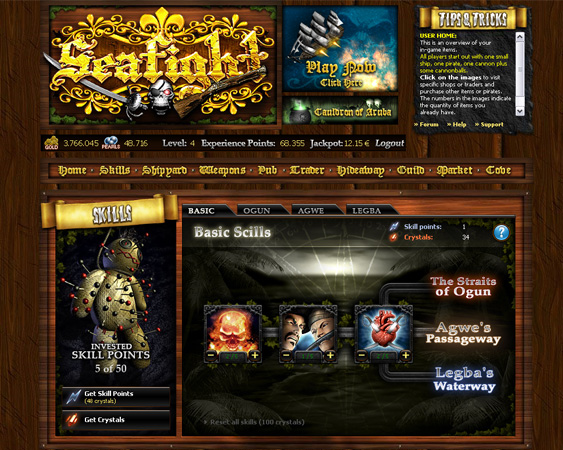 While you're traveling you may face the enemies and start a fight. Try to estimate the power of the hostile ship and not to spare advanced kinds of weapon on trifles. Sure you won't be glad to run out of shots when it's time to cope with a greater enemy. By the way, on higher levels you'll have to fight against real players so you must be concentrated to avoid massive attacks. Otherwise, you'll be killed and resurrection will require real money as well as reparation of your ship.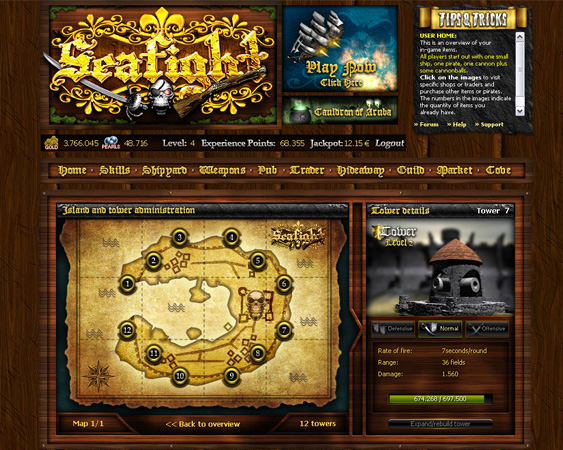 So what can you do to stay afloat and not go to rack and ruin? Not very experienced players prefer to join big clans and feel safe and comfortable with no much risk to die soon after they begin to enjoy the process. This is probably the only way to get the unlimited power over the maps in Seafight.
And of course you'll be able to buy new ships and upgrade them with new kinds of ammunition and weapons. But to do it you need gold and pearl. As well as gold you can get pearl looking for it but it would be difficult as pearl is rare. The other way is to buy it for real money. The best ships and weapons are only available if you have it.
What can be said about graphics? It's hard to call it at least good, as it leaves much to be desired. Still the navigation in the game is simple and you can simply click the left mouse button to make the ship move or set the direction to make it travel automatically.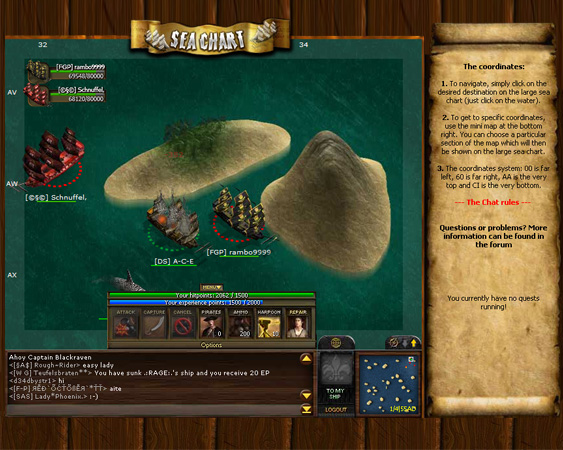 When you start playing you enjoy the gameplay and see numerous opportunities you get during the process. So those who like competitions and want to act as a pirate will appreciate the game in spite of the poor graphics.