While 30 million users from 30 countries all over the world are the fans of Farmerama since it has been released by Bigpoint in 2009 many gamers still have no idea of what it actually is. Still it won't be difficult for you to imagine the mechanism of the game if you have played some other games where you're offered to grow some plants and take care of animals on the farm.
Such games are quite popular nowadays, especially with Facebook users, but what makes Farmerama so special is the well-organized and complicated world full of opportunities and realistic details. Bigpoint has done its best as usual and what we get is a high-quality farming simulator with wonderful animation, perfect graphics and capturing gameplay.
At the beginning of the game you're given a simple weedy farm. And your task is to make it flourish and expand its territory. Farmerama offers you several ways to do it. You can place there buildings, grow animals, set plants and harvest them. You get the maximum pleasure when you see your experience scores increasing after a hard working day and the farm is getting bigger.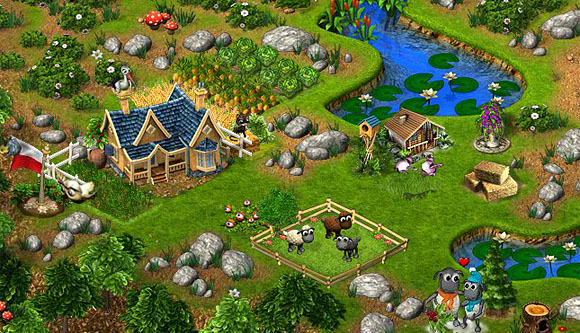 The better your farm is the more opportunities you get: new types of plants and animals become available gradually with the growth of your success. Soon you'll realize that you want more plants and some new animals you can't yet have as it's the only way to expend the farm.
But a good farm requires money on upgrading it. Once the seeds you've planted become a crop you harvest it and sell. As for the animals, they can also be sold at the Farmers Market when they're raised. This process of selling goods is very popular among users and it's also very interesting and realistic. You can create a promotion to sell something, write you telephone number (it's given in the game) and once it's displayed in The City somebody can call you and buy your goods. Very convenient!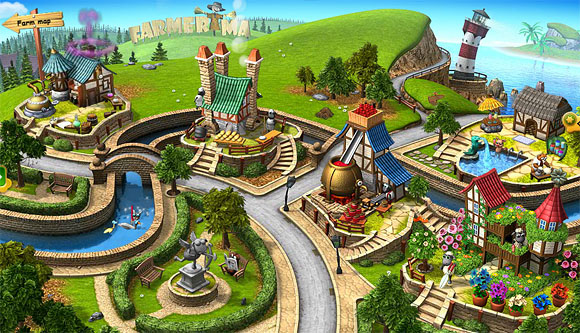 The City is a special place in Farmerama. Actually, everything except growing plants and animals happens there. You can buy the seeds and different upgrades for your farm in the workshop. There is also a bank where the players exchange coins. Want to send messages to some of your friends? Go to the post office! Various kinds of trees are sold at the tree nursery and if you want just some decorations then a supply store is all you need. It's difficult to tell everything in few words – you simply come to The City and learn how it works.
It's pointless to visit The City without money. The currency in the game is of two types – Country Coins are virtual and are available in the game, but you can also use real money – Barnyard Bills which can be exchanged in the City bank. Sell your goods and you'll have money!
For those who like some special features Bigpoint added some unusual farm "creatures": you can raise not only cows and chickens, but also squirrels, marmots and even fireflies. All these things were done just for fun but usually such ideas make the game funny and full of surprises.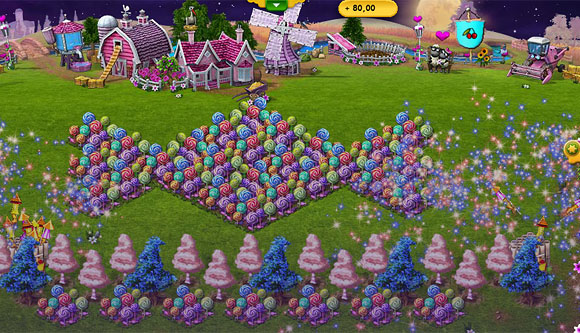 Quite big Farmerama's advantage that makes it differ from other games of the kind is its graphics. Various flash-effects add much to the atmosphere and make the game so attractive for the users. So if you want a high-quality farming simulator you know which game to choose.
On the whole, Farmerama will appeal to children and adults who like peaceful country lifestyle and want to relax taking care of their personal farm with plenty of opportunities and realistic tasks. Even though there are so many games like this nowadays, it can no doubt be called "the most successful attempt" to show the real life on the farm.