Far Cry 3 sends you to Rock Island with Jason Brody, the main hero, accompanied by his family and friends. They're having a good time on beautiful sandy beaches, in clubs and other places of entertainment.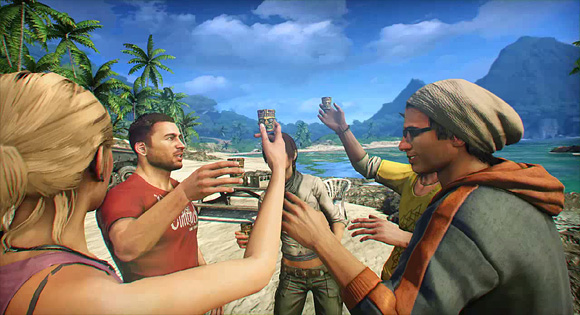 Unfortunately, the holiday isn't meant to last long and, after a bad parachute jump, the whole company is captured by a local gang of ruthless pirates and slave traders. From that point you start playing on behalf of the main hero, so get ready to behold a very memorable and charismatic character, Vaas Montenegro, the head of the gang.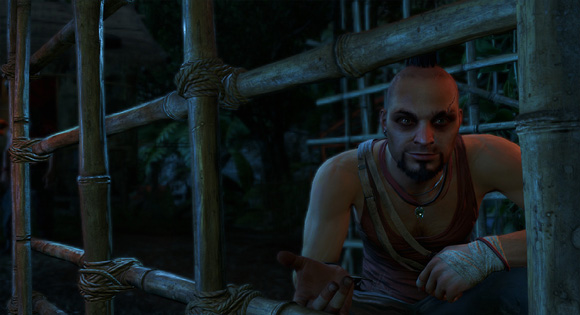 After revealing your future destiny, Vaas and his assistant leave, and you get a chance to escape from captivity. During the escape you lose Grant, the elder brother, whose death partly explains the reason why you occasionally initiate the massacre.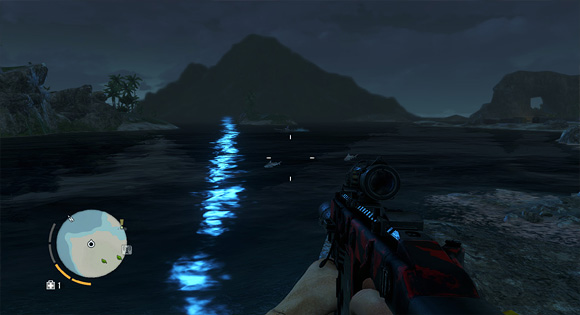 Your further destiny is tied up with the Rakyat tribe that is to become your ally in the struggle for liberating the islands from cutthroats. This will help Jason Brody - the main hero - to release his friends from captivity.
To achieve the intended goal, you have to explore two large islands, seize roadblocks from the enemies and occupy radio towers (thus you'll clear up the part of the map, where your path lies). Far Cry 3 provides you with an excellent selection of weapons, such as revolvers, silenced sniper rifles and shotguns, along with the best one, an undeniable trend of the season - the Recurve Bow with different ammunition. If you want to make some noise and have fun, you can use several kinds of machine guns, grenade launchers and a flamethrower. I'd like to emphasize that, compared to the previous Far Cry games, Ubisoft introduced leveling of the main hero. Thanks to the peculiar crafting system you can buy additional skills for points you've earned completing tasks.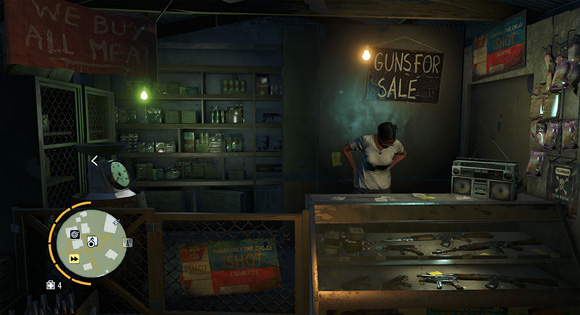 The inventory upgrade of the cartridge belt, medical kit and wallet is not that easy, as for this you have to go hunting. The flora and fauna of the island abounds with various animals, which skins serve as building material. However, mind that following the tribe's tradition is a bit complicated: just try to kill several leopards with your bow. And if you are unlucky to fall into the river, it may eventually cause a dreadful fight with a crocodile! The game transport is quite all right: you may ride or drive everything that can be ridden or driven, have a trip on a hang glider, ride a motorboat or hunt sharks on a water scooter. The game mechanics, however, has a few minor bugs: moving on land you stumble over few invisible bumps or sometimes fail to mount certain obstacles on the way.
The game plot is highly predictable, and the fact that there can be 2 endings surely doesn't right the ship.
In conclusion, I should emphasize that Ubisoft brought out a sound product, which is far superior to its predecessor Far Cry 2. The 3-rd part shows us a picturesque view of the tropical island, you enjoy complete freedom to explore it, and there are no boundaries as you conquer it. Shooters (and here we're dealing mainly with a shooter) look very dynamic and the game, on the whole, does not imply mindless elimination of all living creatures in Rimbaud style. The player is free to choose his or her own game style. Do it your way, for you can either crash and kill everything around or quietly ambush the enemy.
However, Far Cry 3 also has its fly in the ointment: the artificial intelligence is rather awkward and mediocre, the tasks become all the same very quickly, and it takes you 3-4 hours to cover the main plotline.
All in all, Far Cry 3 turned out to be highly professional and certainly very interesting. Despite all the drawbacks, it's worth spending money and time on. It's going to boggle minds of all who adore first-person shooters, and leveling the character will engross new audience. It'd be wrong not to mention one huge disadvantage. The developers decided to make heroes somewhat more attractive and audacious, adding lots of scenes related to drugs and drug use, so as to put some special thrill in the game. This disturbing fact would set anyone against the whole idea!