People like mobile entertainments and the more they play them the better they feel. Nowadays App Store and Google Play are the main sources of the games you can play on your mobile phone or tablet. Temple Run is one of those games which can be easily described as extremely addictive though it can't surprise you neither with the plot nor with outstanding graphics.
The Temple Run developers - Imangi Studios - decided not to bother you with complicated tasks and just let you enjoy your iOS or Android devices thoroughly. As you may see it from the name of the game here you have to run trying to escape from quite strange creatures that look like demonic monkeys and chase you on your way. Actually, this is the main objective in Temple Run. No doubt you can easily slide your finger on your mobile gadget so you'll manage to move in the game successfully!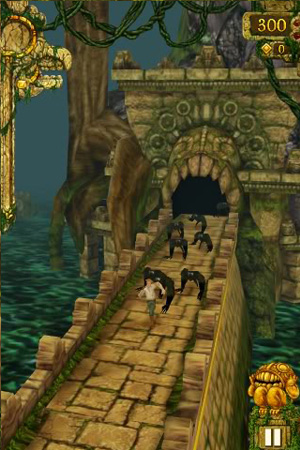 Running is not the only action you can perform here! Slide to the right or to the left and you're able to turn. And how to avoid greater obstacles? Don't forget to jump in time sliding forward. The game allows you to buy a lot of pleasant things that's why you need money! Coins are all around - collect them while running and tilting your device.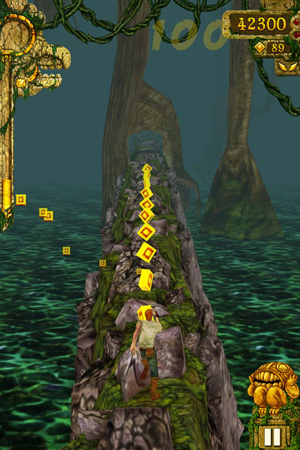 And where has all this fuss come from? Your character has stolen an ancient idol and put a monkey up. That's why he has to run not to become a victim of his own crime and his strange pursuers.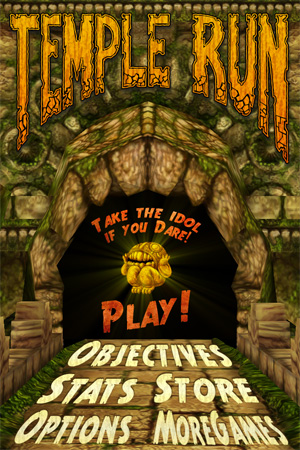 And your task is not only to save this poor thing but to collect coins, getting scores and purchasing power-ups and upgrades. The developers made you a favor and just stuffed the game with all kinds of bonuses such as Coin Magnet, Boost and other "products". For those who like beautiful images Temple Run offers wallpapers and new characters that you can buy. Such things are practically useless but why not spend money if you have it! Moreover, you'll soon get used to running and your only desire is to enlarge your collection with this or that trifle you've not tried yet.
Though Temple Run may remind you some other games of the genre there are no extra-characters that annoy you and interfere with your plans to escape. Here you run alone and can concentrate on the process. If you're successful you get bonuses - special power-ups which make you stronger.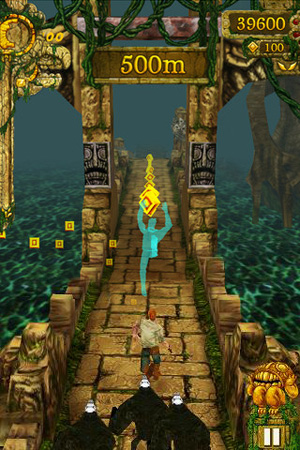 And for those who need motivation Imangi Studios created a special system of bonuses' upgrades. First, you get them spending coins and then you earn more money to make acquired Invisibility last longer or increase the value of Mega Coin you've just got.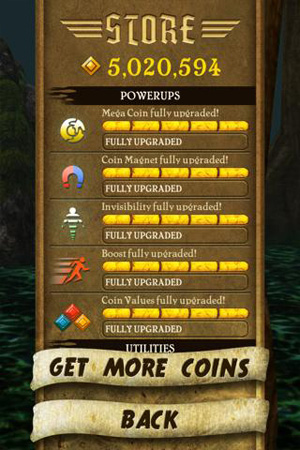 There is no actual ending in the game so you face endless challenges which make Temple Run a long-lasting entertainment. You're not able to stop till you set a record in the distance length or speed, collect all the power-ups and upgrade them. The other considerable part of the game is money. And what is the aim of getting it? You need it to unlock characters! If you haven't played for a policeman, a football player and for an explorer yet your game isn't over.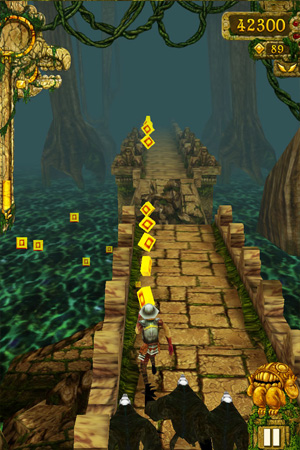 And what is really disappointing is that you have to play for a long time to buy whatever you want. You get no pleasure of purchasing when you have only half an hour and get only some coins. It's not very pleasant to run for nothing!
Anyway, what comes from all these things is just amazing. Nice sound effects and numerous achievements make Temple Run differ from classical time-killers. All the owners of Android and iOS will be happy to play this simple but entertaining dynamic game.