What do we, ordinary people, know about puddings! At its best, we can call them "some sweet things" or remember "Alice in Wonderland" and her funny acquaintance with this tasty dessert.
Pudding Monsters will tell you such facts about pudding you've never thought about before. Puddings which live in the fridge are the main heroes here. They are very cute and look alike: they can roll their eyes, smile, snuffle and what not except moving on their own. So your task is to move them closer to each other so that they could make a big dessert together.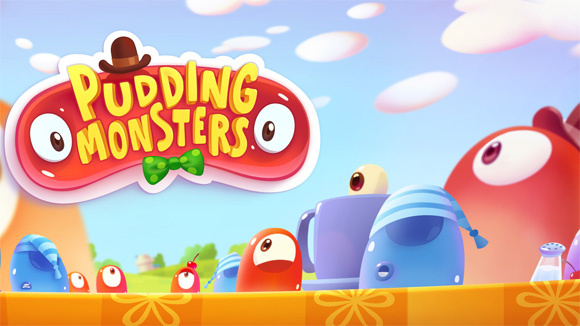 From the first sight, there are no difficulties in it. But later you learn that your mistakes will cost you everything. One false move and a pudding falls down. The game is over. When you push the pudding there should always be something that can stop it: a block of ice, a book or something else. Once you managed to move one of them, take the other one and make puddings unite.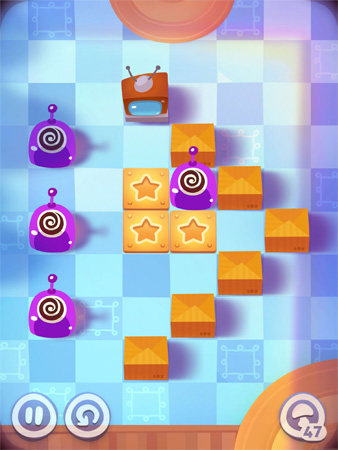 When all the puddings become one great dessert, you pass the level and go on. And not only you get positive emotions but also receive bonuses - stars which turn into money. Later they will help you unlock other levels which are quite numerous - there are 125 of them in Pudding Monsters (and the developers from ZeptoLab promise to add more).
To earn stars you should simply join the puddings in definite place marked in the fridge. You can get from 1 to 3 bonuses per level. And of course you'd better try and get all possible scores because the levels constantly get more interesting.
As you move on you'll meet new characters such as a sleeping pudding that is so busy doing nothing that the only way to awake it is to shake. Still don't shake your mobile gadget - it's useless. You'd better push one of the active puddings to this "sleeping beauty" so that they could stick to each other and the sleeping one will wake up.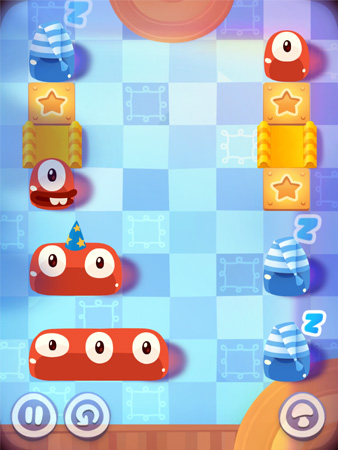 A bit later you'll find slimers. To tell the truth, they make the whole process easier. When you push the slimmer, it leaves a sticky green mark that can temporary stop the pudding that is going to fall down. On the whole, building a pudding monster and collecting stars are interesting things to do.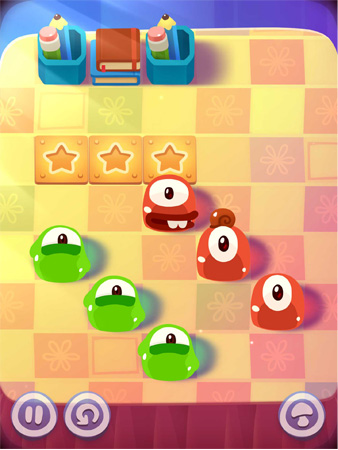 And the gameplay is extremely addicting. You won't be able to give up when some simple tasks have already been done and you're ready to do something more complicated. As any other game, Pudding Monsters can give you hints, but you'll have to pay for them. But don't overdo if you don't want to spare all the bonuses which can be spent on something more interesting (you can unlock some new levels!).
So, who can play Pudding Monsters? Well, children will no doubt love funny goggle-eyed puddings, that live in the fridge and are always ready to become a huge pudding. And as for adults, they will simply be happy to have a rest and play with small creatures for an hour or so.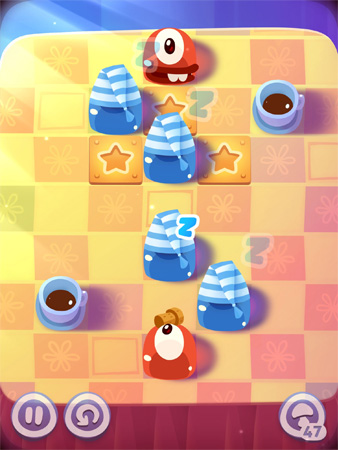 And finally, some words about the developers of Pudding Monsters. The authors of this game are from ZeptoLab company. In 2008 the twins Yefim and Semyon Voynov created the company and in 2012 the mobile game Cut the Rope captured the minds of gamers, won many prizes and became one of the most popular games for iOS. And now it's up to you to decide whether Pudding Monsters can become so popular. So download the game and welcome to the fridge!