Fruit Ninja has recently become a great success in the application market and the most popular fruit-slicing game. Millions of players around the world are enjoying its simple yet incredibly entertaining gameplay. Fruit Ninja can hardly be easier - while playing you swipe the screen to slash a fruit like the true ninja warrior - apples, watermelons, peaches are cut in halves and you can see their juicy core! But why fruit? A training before the real fight? The developers only once mentioned that ninjas simply hate fruit, and a promo-cartoon at the beginning of this game doesn't reveal this secret. So, we are to accept this fact.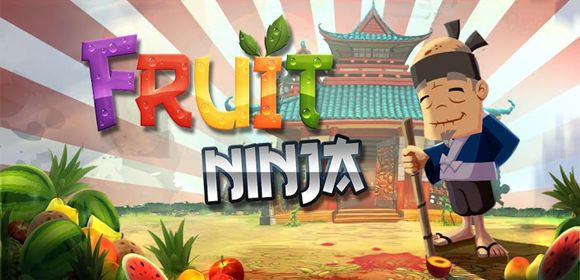 Cute bombs looking as juicy as fruit and flying up from the bottom of your screen may make your game a little sour. They simply explode. The moment you touch one of them will put a quick end to your whole game.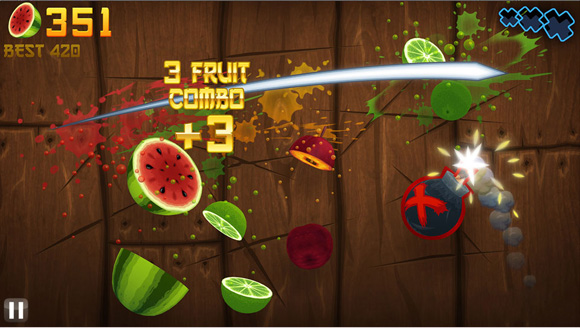 To make the life of the samurai a little more entertaining and complicated there is a number of crosses in the right-upper corner - they identify your life. So, you can drop a fruit without slicing only three times - then everything is over.
You earn a valuable point-enhancing combo slicing several fruits at a time. One more zest in the game is a pomegranate which is famous for bursting in front of your face when you are ready to swallow it. Take revenge in Fruit Ninja and chop it into tiny pieces making swift motions with your hands! Every time you do so, you earn a huge amount of points and enjoy the visual effect of enormous colorful bursting.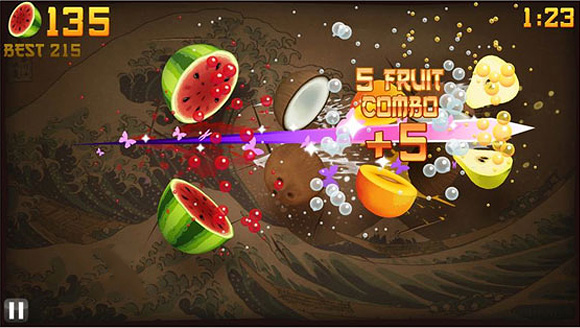 The game is full of colorful fruit fests, crazy juice's spray and sparkling blade's moves - that's why Fruit Ninja is highly addictive. It makes you go on even when you know everything about the game. As well as the music does - you will love the sounds!
To hold your interest for a long period of time Fruit Ninja developers added some paid features and upgrades. You are a ninja and it doesn't mean you don't need entertainment! But occasionally it's complicated to make it all out! In Gutsu's cart, for instance, you can buy various incredibly useful power-ups for fighting gadgets, such as bomb deflects or strawberry bombs for the virtual currency - star fruit. If you run out of fruit money you can always add some real, too.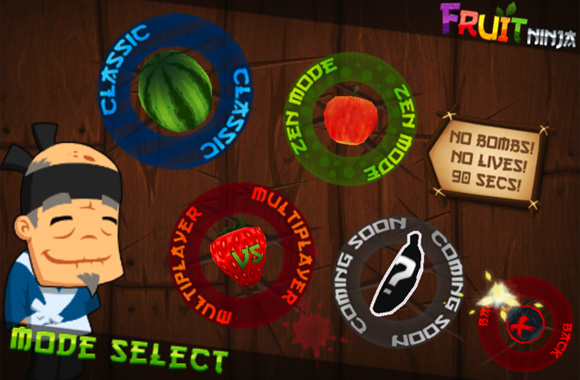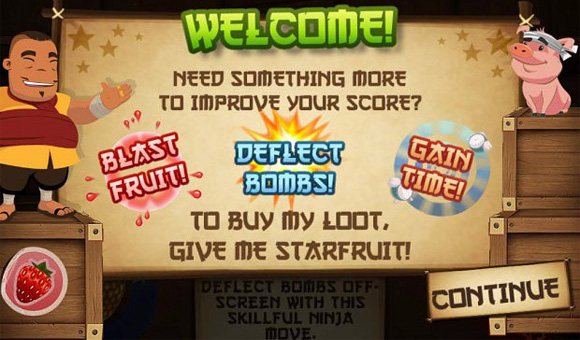 You can customize the look of the game visiting the Sensei's swag. It is definitely attractive for advanced gamers who need some change. Apart from slicing career you are offered a great number of blades, colorful backgrounds, and shadow effects to unlock. You can have, for instance, a sword with constantly changing colors. Some of upgrades are locked and you predictably get them after spending enough time playing the game. The others require unique challenges, like slicing 200 ripe peaches, or force you to pay precious star fruit.
Various modes spice the gameplay; each one changes the action in some way. You can both compete and cooperate with another player in Multi-player mode, though you may find competing more thrilling than cooperating. In Arcade mode you can show your fruit destroying skills within one minute. You may also want to try the relaxed Zen mode, however, most of the modes except the Classic one are paid.
Fruit Ninja is an ideal simple and magnetic time-killer that you can easily launch if you are waiting in a queue. On the whole, the developers did a good job as they wrapped a very simple idea in one of the greatest designs making the game attractive for adults and kids.