Perhaps almost no game could surpass a strategy in popularity. The audience for this genre has no gender or age restrictions. Men and women, adults and children can't wait to submerge into a game world to build a new city or village. They are ready to repel enemies' attacks and make friends with neighbors. They are sitting for hours creating their own little universes on screens of their devices.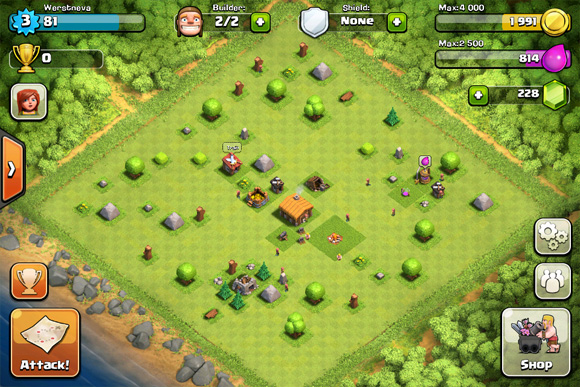 If after this introduction you suddenly get an overwhelming desire to play some game, I'd rather you go on reading this review. I'm going to cover one of the most deserving specimens of the strategies for iPhone, iPad and iPod - Clash of Clans, the game made by Supercell.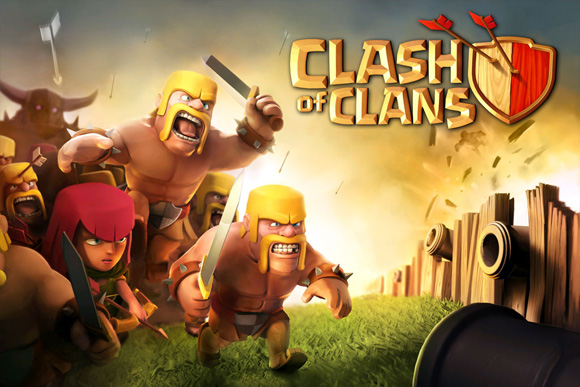 The first feature to check out is the graphics. Anybody could assume that it's quite decent. Even excellent, if you take into account that the game takes up little space and is fast operating. You can't help but admire pains the developers took making the game. They filled it with vibrant colors and unique characters, and didn't forget to give due consideration to details.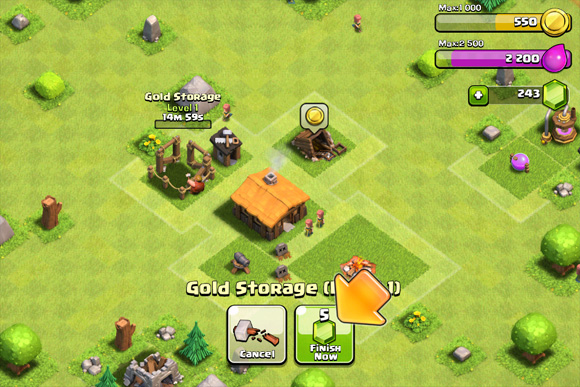 The gameplay takes us to a small settlement which we manage ourselves to turn it into a real military town, which has its own supplies of resources. Moreover, it is utterly protected from the enemies who aim at your assets.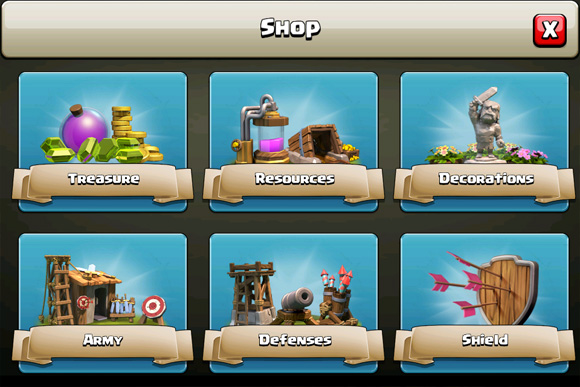 The player gets several resources: the magic elixir, gold coins and green gems, which are used in the construction and during battles. The elixir and gold coins are recoverable resources. The player can get them from under the ground, take them away from a nearby village during a ferocious military campaign, or buy them for gems. This third resource is not always easy to get. Sometimes green gems can be found or won, but that's a rare opportunity. They help speed up the building process, training warriors, and buy more gold coins or elixir, as already mentioned. Green gems are purchased for real money.
However, we shouldn't get so easily disappointed, as in contrast to lots of similar games with in-app purchases, such purchasing system do not drive you mad in Clash of Clans. At the very beginning of the game you are given more than enough gems! So a skilled player (and some practice will soon make you one) might be able to do without any optional purchases.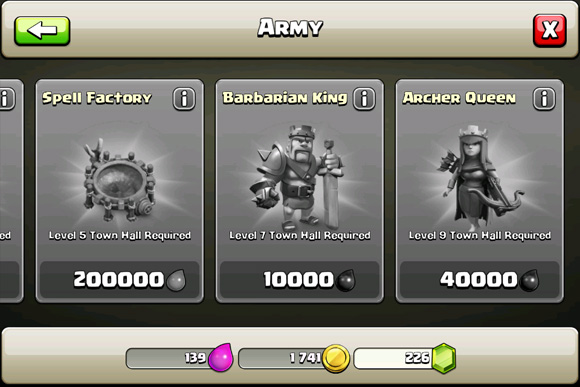 In the previous paragraph we mentioned that resources can be taken away from the conquered neighboring settlements. And here we would like to introduce the most interesting aspect of Clash of Clans by Supercell. It is social and makes you communicate. Thus all the neighbors you're going to defeat in merciless battles are real players from all over the world just like you! That's why you'd better make some efforts protecting your village, upgrading cannons and building high fences. Someone can have an eye on your gold, too! As soon as your village expands and grows nice and fortified, you'll be able to join a clan. What benefits do you get? First, you enjoy financial and military support from other players. You'll also be able to help your allies. Second, you can coordinate combined attacks against any settlement of hostile clans you choose, chatting over all the important details. Yes, the chat bar is always in access and you can hang out with your allies commenting on everything.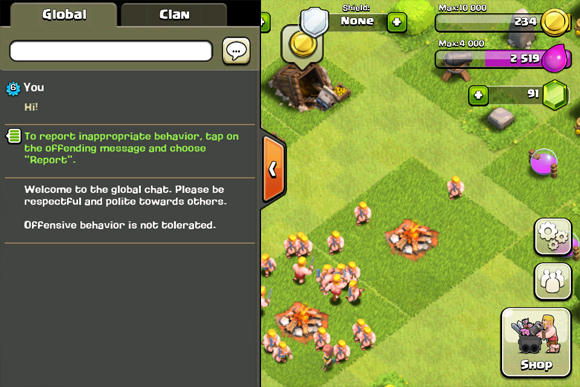 However, there are still some drawbacks even in such a masterpiece as Clash of Clans: you can't aim warriors at a particular object during the battle, you can only try and "drop" them somewhere near, hoping that they would attack that object.
What is the target audience for the game? The answer is simple: those who adore strategies. If you often dream of falling into another world, taking part in a couple of epic battles and building some castles, feel free to download Clash of Clans, especially minding that this game is absolutely chargeless.