BADLAND by Frogmind is the game that reminds us of the famous World Of Goo with its peculiar atmosphere. BADLAND - is a good mixture of the capturing gameplay, unusual characters and really fantastic graphics. But not so many things at once! Let's discuss everything in stages.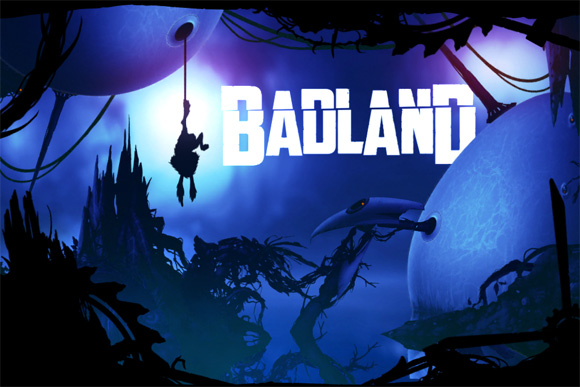 The action takes place in the magical forest inhabited by mysterious creatures. Some of them even look weird so if you're one of those sensitive natures you'd better not play this game in the evening and visit dark forests of BADLAND before you go to bed. Don't you want to watch nightmares!
The creature you're going to play for is also quite strange and mysterious. It looks like a fluffy black clump with legs and eyes and can jump and tumble. To make him move you can do the following: put your finger over his head and it will jump; put the finger under the creature and it will fall and roll. But it's not the only thing to do: you'll also have to move forward quite quickly. In this game you'll never stand on the same place too long trying to cope with a new bar. Still if you're at a loss then start again from the last savepoint (the game chooses it automatically).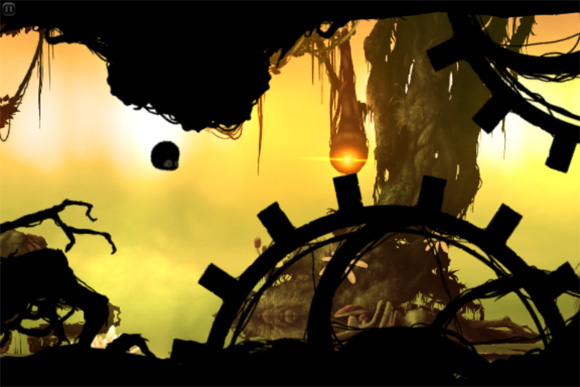 Your creature is a bit clumsy, besides its fur is very long and so the hero constantly rubs the branches of the trees. Thanks to the developers from Frogmind the game is just stuffed with danger and you'll have to avoid it. There can be wheels that can easily kill your character, heavy clods of withered branches or something else that can crush your hero down. So all you need here is good reaction, attention and well-developed motor skills. Sometimes the tricks you have to perform are just incredible.
Such games as BADLAND are usually described as "easy to learn but difficult to win". And it's really so: there seems to be nothing impossible but even the first levels can't be passed from the first attempt.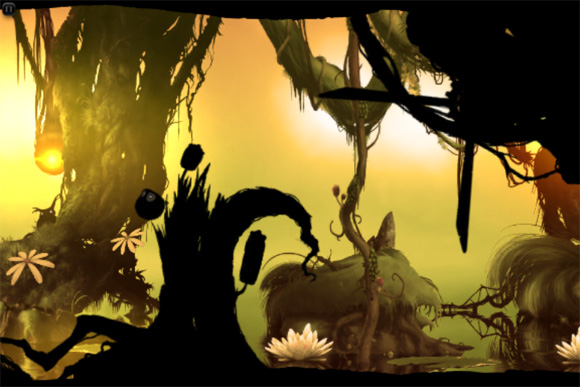 Walking along the forest you'll find colorful round objects with the help of which your character will learn how to get smaller or bigger, how to move faster and how to be cloned for a while! But these abilities are not always good for you. For example: if one of the cloned creatures doesn't pass the level, you get fewer score. It's not an easy task to direct the crowd of monsters and only an experienced balancer can cope with it.
The graphics in BADLAND is brilliant. The game is worth being downloaded at least for the sake of the atmosphere of this mysterious forest. At first sight, it's a bit dark, but gradually you begin to notice the sun that is warm and bright and shines among the trees, and you feel that the atmosphere in the forest is rather friendly. And the creatures there don't seem to be frightening anymore.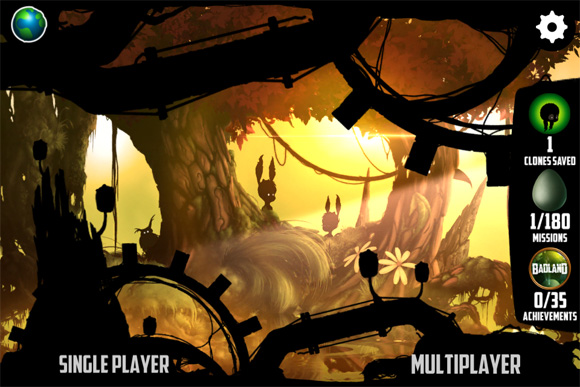 Of course, this forest-style is in everything including the sounds. Calm and pleasant music together with the birds songs and the murmur of the leaves really help you to relax.
One of the most interesting peculiarities of BADLAND is the opportunity to play together with up to 3 friends using only 1 gadget. Each player gets his own character (with individual names) and the race begins. And it's not at all easy for 4 opponents to finger over the screen together at the same time!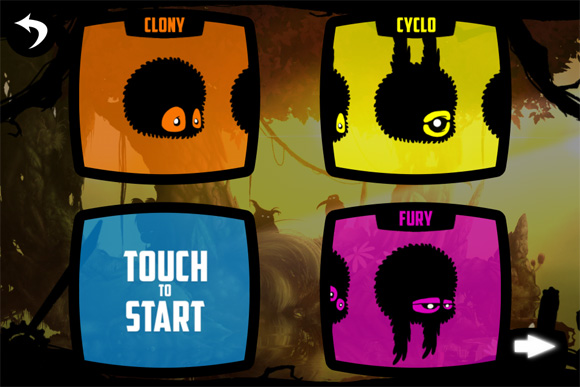 But you can push the other heroes somewhere closer to the wheels. Everything - for the sake of victory!
BADLAND will entertain you a lot and bring you real esthetic pleasure. Still it won't be easy to pass it - first you'll have to get used to its physics. In the very beginning it seems next to impossible to save your creature from all the dangers. But soon you'll find your feet and will act as a clever and experienced gamer and your character will successfully move further and further into the wonderful forest.