Have you ever dreamt of your own island in the Pacific Ocean? Just imagine that the place as pretty as a picture: the white sand, the palm trees, the hammock, the small bungalow and the yacht near the picturesque pier…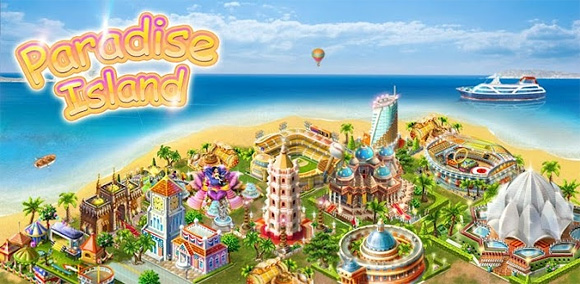 Inspired by this wonderful views, the GameInsight developers created Paradise Island - the game that will make you the owner of this charming place. Still it has nothing to do with the rest! You'll have to work hard to make this small island a popular first-class resort. And now there's only a pier for tourists' liners. But there is also some money in your pocket and you can spend it on recreation development.
In the very beginning you'll get some pieces of advice and learn what to do first on your island. What you really need is to build turbine towers to get the energy, and later - small tourist houses and cafes for your visitors.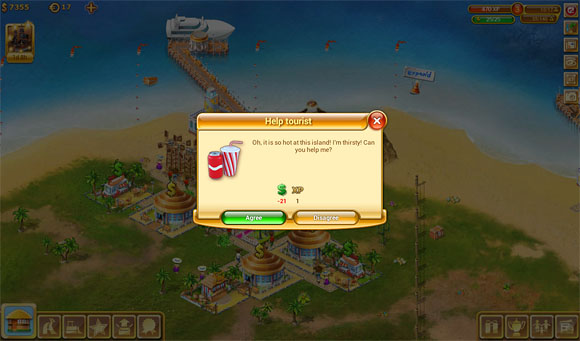 Once the first house is built you immediately get your first tourists who're eager to enjoy all the services on your Paradise Island. You won't be able to call it uninhabited anymore and the first money will come to your budget if you do your best and make the life of the visitors comfortable. By the way, solving problems for your visitors is also your duty. They're so absent-minded while they're on holidays! It's typical of them to leave their money in the room and ask you to sell them some drinks on credit; or they forget where a pier is and you can't but help them so that they don't miss their ship.
And you shouldn't also forget about expanding your resort: build new houses and cafes, decorate the city and when all your lands have been built-up you can digest new territories. Think of the new ways of making the island a special place to live. Level by level you'll have more territories and buildings at your disposal. But you need money to improve your resort. The currency in the game is of two types: dollars and piastres. Luckily, your guests give you dollars and you have enough of them. As for the piastres, it's a rare currency difficult to earn. And that's why the simplest way to get them is to spend real money. But if you're not interested in quick development of the buildings and buying rare constructions then you don't even need them.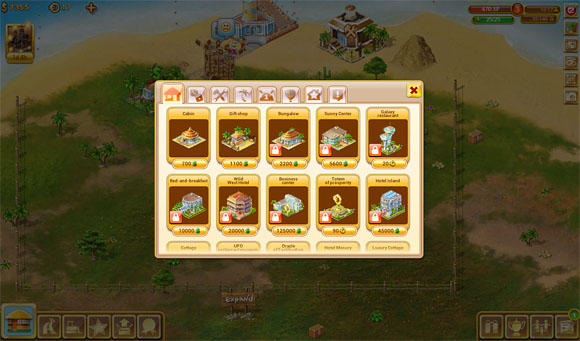 In the lower right corner of the screen there is a sign that tells you about updates and news by GameInsight. Usually there is information about the game sales. So try not to miss them and probably you'll manage to buy some extraordinary building, some decoration for your island or something really cool like a pirate ship. It must be so convenient to get the latest news right while you're playing.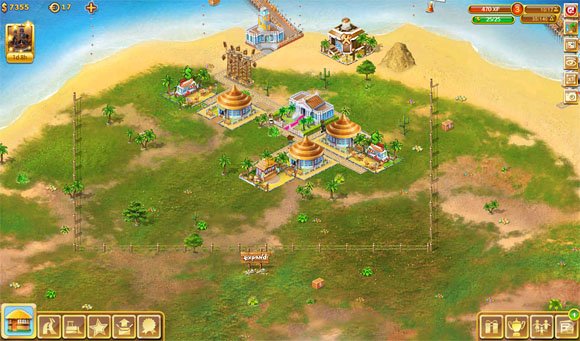 The graphics in the game is bright and atmospheric. The buildings and the characters are well-painted: the tourists in their colorful hats and funny haircuts look very nice and you feel like looking after the life of the real summer beach resort. As for the music, it doesn't irritate you. Pleasant and calm, it helps you to relax while playing. And for all sociable users there is a special opportunity in Paradise Island: register your island, invite your friends and visit each other in the game! You can meet any friend you wish if he or she has got an island in the game. And Paradise Island with friends is even more interesting.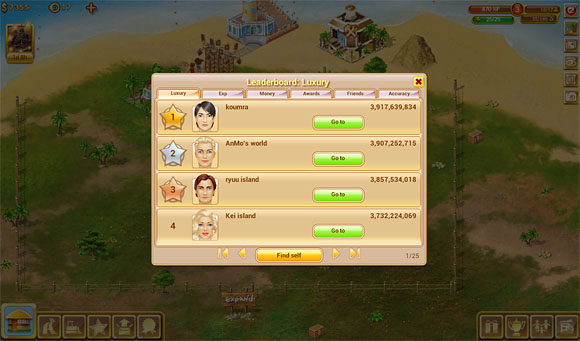 Paradise Island is a typical city-builder. GameInsight had done its best as usual and developed a high-quality game. So if you like games of the kind and want to relax making other people happier then you'll no doubt appreciate Paradise Island.