Bridge Constructor by Headup Games will hardly impress you from the first sight. With no bright graphics and not very easy navigation the game doesn't look very attractive. Moreover, the instructions can't be called quite clear so it will take you some time to learn how everything works. And it's not even surprising that some gamers even put Bridge Constructor aside and turn to some other game. But Bridge Constructor is really worth trying: this capturing puzzle can easily entertain you and just absorb for 2 or 3 hours.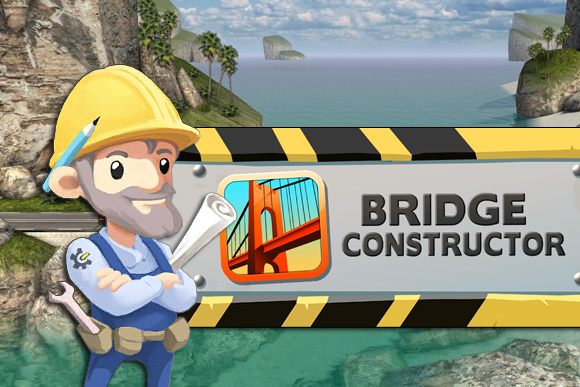 The essence of the game is simple: you'll build bridges over the rivers and deep valleys. In each level you can spend a definite sum of money on the materials. The bridge should be build according to the physical laws and be firm enough not to crack under the numerous cars. If you manage to do it the level is passed.
You can take passenger cars and trucks to test bridges you've built. As the game is quite realistic everything here is very close to real conditions: small and light cars will probably pass any bridge without problems while big trucks can broke the low-quality bridge! That's why you'll get higher scores for those bridges that managed to withstand truck tests!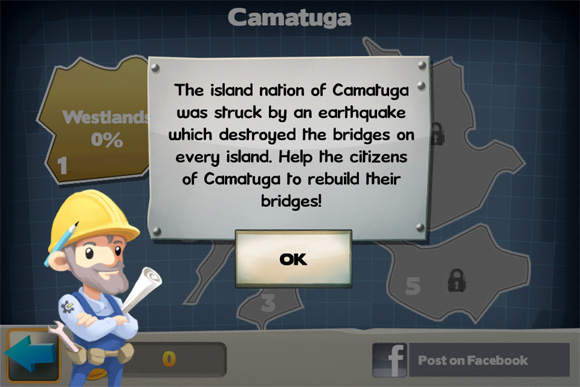 On the first level of Bridge Constructor the bridge will be short while the sum of money you get on it is great. However, the levels will get harder very quickly and you'll have to rack your brains to construct a good bridge when the money is limited. But there are a lot of different ways to place this or that detail so the only rule here is to begin your construction from the white point. The planks are also connected there. Later the yellow points appear and you can connect concrete constructions which are more expensive but at the same time harder that the wooden ones.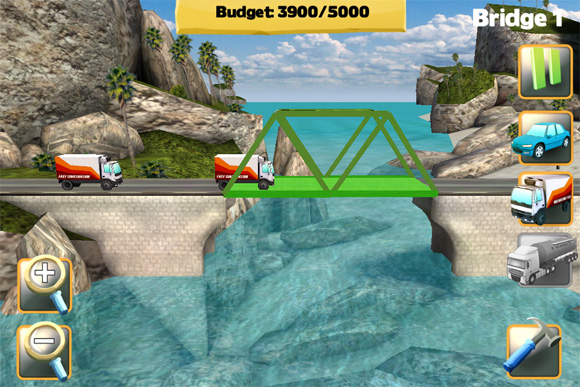 You can save the results after each level. And as constructing a bridge isn't an easy work to do you can save even separate parts of the construction if you managed to make them successfully. So when the base is ready you save the result and it won't change while you can go on constructing the other parts. Your attempt wasn't successful and you don't like the result? Cancel it with the arrow in the lower right corner. But if the mistakes are numerous it would be easier to take your saved base and start again.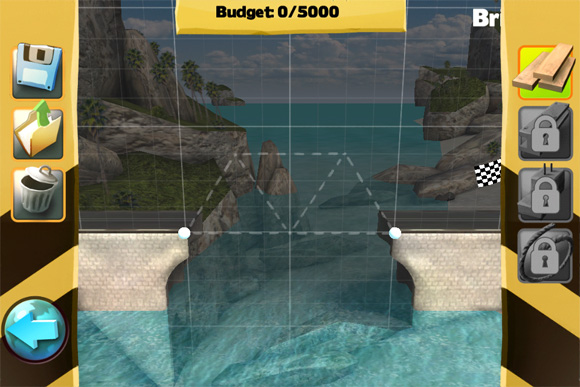 But if you're not at all pleased with what you've already done then click on the "basket" in the lower left corner and the whole bridge will be destroyed. And if you've saved some of its parts then everything is not so bad and you won't have to start from the very first steps. But if you have not, then good luck to you in constructing the bridge from the very beginning!
The music is quite pleasant in Bridge Constructor. Being calm and gentle the sounds help you relax and take your time on thinking of a better way to make this or that construction.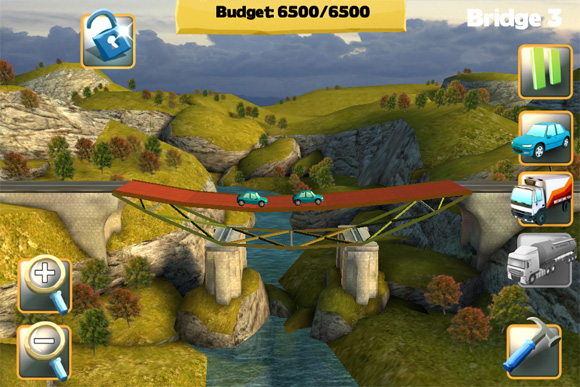 Bridge Constructor by Headup Games developers will appeal to everybody who likes really hard and complicated puzzles. It won't be a surprise if some engineer will find it entertaining or if some of them even say it's quite easy. And as for those who prefer liberal arts to mathematics, they will have to spend more time on thinking over the right decision while they construct each of 30 bridges. But the harder the work is the happier the person who managed to solve all the problems and get bonuses after the construction haven't cracked during the crash tests done by small cars and big trucks. Your success is being registered in Game Center. Moreover, you can share your achievements with your friends on Facebook.