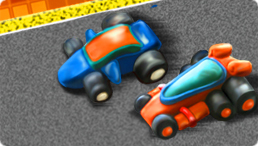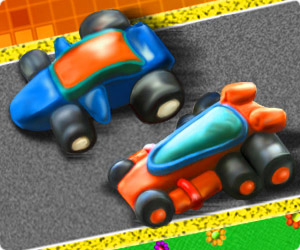 This game is brought to you by our sponsors. It is always free. NO TIME LIMITS!
You will be offered to install MyPlayCity Games Search Chrome Extension with convenient internet search.
Plasticine Racing
Plasticine Racing est un jeu de course sur pistes en autos en pâte à modeler ! Fonctionnalités principales du jeu : gameplay frénétique, adversaires malins, graphisme en pâte à modeler original, une foule d'autos avec différentes conduites, routes de complexité variée et musique de fond de qualité. Au début de votre carrière on vous propose de choisir entre deux autos et trois pistes. Les autos sont différents par leur rapidité, accélération, stabilité sur route et poids. Choisissez une auto qui vous plaît et gagnez ! Pour les places médaillées vous obtenez les points - plus la piste est compliquée, plus le bonus est important. Quand vous avez un certain nombre de points, vous accédez à des pistes plus compliquées avec des bonus encore plus importants, ainsi qu'à des autos plus rapides et manoeuvrables. En tout ce jeu compte 12 pistes et 5 autos complètement différentes. Beaucoup d'effets, graphisme en pâte à modeler intéressant et pistes de différents niveaux de complexité ne laisseront pas indifférent même le coureur le plus expérimenté ! Courez sur les pistes, gagnez les points et fabriquez de nouvelles pistes et autos. C'est facile et divertissant ! Alors, prêt à la compétition ? Rejoignez vos collègues du monde entier et battez vos records ! Si votre score se trouve parmi les 10 meilleurs, vous pouvez l'inscrire sur notre site web et des milliers d'autres joueurs du monde entier pourront voir votre score élevé ! Prêt à relever le défi ? Téléchargez le jeu de course Plasticine Racing et jouez gratuitement !
Features
Excellente infographie animée
Plein écran et modes de fenêtre
Légère musique de fond et effets sonores
Contrôle du clavier et de la souris
Interface facile d'emploi
Support Installer / Désinstaller
Support technique à titre viager
Non-violent et amusant pour tous les âges
System Requirements
Microsoft Windows 95/98/ME/NT/2000/XP ou meilleur
Pentium 800mhz ou meilleur
64 Mo RAM
15 Mo d'espace du disque dur
Résolution d'affichage 800x600 ou supérieure
Haute résolution ou couleurs vraies hautement recommandés
DirectX 5.0 ou meilleur