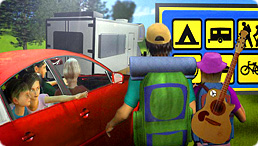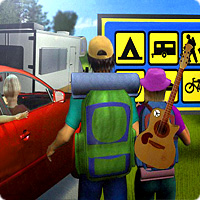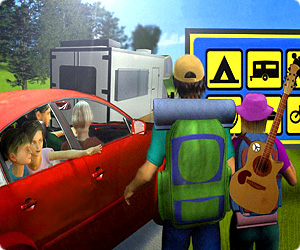 This game is brought to you by our sponsors. It is always free. NO TIME LIMITS!
You will be offered to install MyPlayCity Games Search Chrome Extension with convenient internet search.
Youda Camper
Youda Camper is a new splendid game for those who like to construct and create. You are the engineer, the manager, the owner that needs much attention and business tricks to gain the glory for your campsite. Your objective is to think over, plan and develop the best recreation area and attracts crowds of people there. The task given is not for a cookie-pusher. You are responsible for all the workers, buildings and materials as well as for the future plan of the campsite. You are free to plan it in your own way, choose the spots and decide what will be built there. The whole strategic vision depends on you only. Don't miss your opportunity to create a new little world of fun, rest and relaxation. If you are trained enough and ready for new tourists to come, it's time to think about the infrastructure. Roads, car parks and tons of money, of course! The best advantage of Youda Camper is that it gives the gamer incredibly wide range of chances to train managing skill. You estimate the situation and the market better, evaluate the property, make decisions that concern prices. And this is only the beginning. Youda Camper is a new business strategy game which boasts excellent graphics and sound effects. These are your square kilometers and you are free to create a new recreational center giving the tourists new luxurious facilities and leisure opportunities. The game is extremely true to life and up-to-date so you will definitely enjoy it. Choose styles, building types, tools, services and prices. This is your world and the freedom is unbelievable.
Features
A wide variety of housings
Good assortment of styles and services
Numerous guests to serve
Enormous surface
Lots of new opportunities
System Requirements
Windows 98/ME/2000/XP/Vista/7
Processor 500 Mhz or better
64 Mb RAM
DirectX 8.0