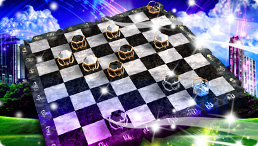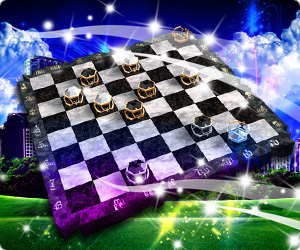 This game is brought to you by our sponsors. It is always free. NO TIME LIMITS!
You will be offered to install MyPlayCity Games Search Chrome Extension with convenient internet search.
World of Checkers
Good news for all board game - adorers! Wanna play checkers but you haven't got worthy opponent? It doesn't matter, because now you can launch the game World of Checkers and have fun! Checkers is played by two opponents, on opposite sides of the game board. One player has the dark pieces and the other has the light ones. In the game World of Checkers you can choose your favorite game: English, Russian and Giveaway - the game, where the rules are quite opposite to the traditional. While playing Giveaway, you have to capture all your pieces to the opponent and if you manage to do it earlier than your rival, you'll win! Play the simulator and have a perfect training for your brains! You can choose one of 4 levels of difficulty, so the game will be fit both for low- and high-skilled players. With the checkers simulator you can upgrade your skill at analyzing your following steps - so it will be useful not even in the game, but in your real life as well. Strain your brains to the limit and try to work out a strategy to make a chain of multiple jumps! It's not an easy task, but if you managed to do it, your partner would be disappointed and start making mistakes. And don't forget for the most important rule - while one of your pieces reaches the opponents part of the game board, this piece of checkers gets a crown and now it can move wherever it (or you) wants and capture opponent's pieces of checkers, met on its' way! If you get stuck and don't know where to move, use a hint. Your next move will be highlighted and you can go on playing. Download the game World of Checkers, the real masterpiece of simulators and become the grandmaster of checkers!
Features
Animated graphics
Fit for all ages
Quick hints
System Requirements
Windows XP/Vista/7
Processor 300 Mhz or better
64 Mb RAM
DirectX 8.1