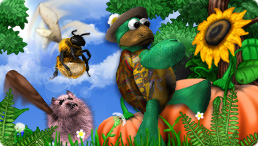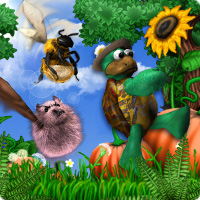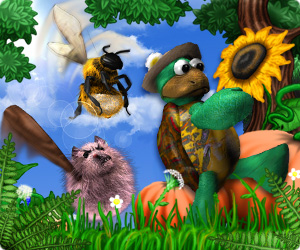 This game is brought to you by our sponsors. It is always free. NO TIME LIMITS!
You will be offered to install MyPlayCity Games Search Chrome Extension with convenient internet search.
Turtle Lu
What if one day you would wake up and a world would not be the one you used to remember it? And everyone you know had just disappeared and there would be no one who was able to explain what was going on. Just imagine that one morning you found yourself in a mysterious garden, full of monstrous caterpillars, dangerous giant hornets, and other quite unfriendly farmer fields' residents. That is what happened to Turtle Lu one beautiful day when he woke up, put on his best hat and stepped out of his house. He was surprised to find out that a garden he used to admire every day totally changed. There was no one he knew before, instead of his smiling tidy friends in stylish hats there were ugly tasteless insects. And it seemed that he was the only one left in the entire garden that still had good manners, got on a hat and liked to discuss last news, weather, and events happening in the park. So the poor turtle came back home and drank a few cups of best Italian coffee, despite the fact that he had promised himself not to take it ever. Thus, Turtle Lu was able to pass through the hostile garden quickly, jump and look around for someone who was not trying to hurt him. Throughout his journey, he will try to figure out why the world that was quite perfect for him yesterday became what it was. Or at least, he would like to find anybody who will tell him what is going on in the garden. He is better off not to hesitate because a coffee effect lasts not so long, and Turtle Lu is not going come back to his house to make a new fresh brewed cup. So leap in a journey with jumping dandy.