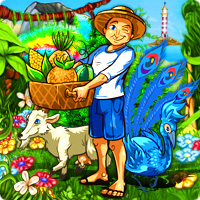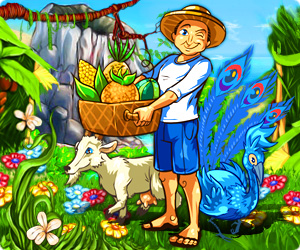 This game is brought to you by our sponsors. It is always free. NO TIME LIMITS!
You will be offered to install MyPlayCity Games Search Chrome Extension with convenient internet search.
Tropical Farm
Enjoy a new original story in the game Tropical Farm! As a result of a ravaging hurricane a tropical island turns into a complete wasteland. Your mission is to revive it! In this game you are to plant pineapples, wheat, bananas, grapes and corn (eight species of plants all together), and care for animals: ostrichs, bees, peacocks and many more. Complete 45 levels of overwhelming fun to become a real tropical farmer! At each level you can construct new building (supermarkets, mansions, schools, pet shops etc) to accumulate sales and make the growth of your business more sufficient. Tropical Farm offers you a chance to test your entrepreneurial ability since you will have to make a thorough business plan to decide how many seeds or animals to purchase to complete an order and manage not to be ruined but, on the contrary, make your business flourish. Every time you receive a new order you get a notification, and then it's up to you to use all your wit and calculation to successfully accomplish your tasks. Produce seven types of food products. Plant seeds, water and weed plants following a highly addictive circulation of ordinary farmer's tasks. Acquire new features, abilities and skills to become a real expert – farmers are upgradeable too! Every new skill allows you to acquire some new kind of an animal, seed of plant. Download the game Tropical Farm totally for free right now!
Features
45 levels
Four animals
Eight species of plants
Seven types of food products
Player and city rankings
System Requirements
Windows XP/Vista/7
Processor 600 Mhz or better
64 Mb RAM
DirectX 9.0