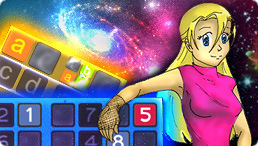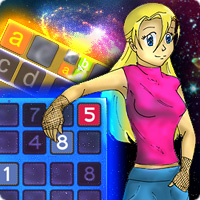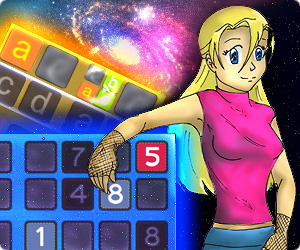 This game is brought to you by our sponsors. It is always free. NO TIME LIMITS!
You will be offered to install MyPlayCity Games Search Chrome Extension with convenient internet search.
Sudoku Adventure
Behold, intelligent stranger! For here is an outstanding sample of classic mind-blowing puzzle, that is able to make your brain work harder than ever, meet Sudoku Adventure - a real challenge for the conundrum adepts. Young and beautiful Amy has never expected that a usual walk may bring her to the alien ship, unpredictably full of surprises and hard to navigate. This weird machine is controlled by the power of mind so the girl's every step around is followed by another puzzle. Help poor lady take over the ship and get back home to a steady ground! Sudoku of unique types filled with letters and digits will stand on the way, try to solve them all to take Amy, the main heroine, out of the trouble. Challenge time and fill the game fields with correct objects. The deeper you go into sheep, the harder levels become and very soon you will need to even print out puzzles right from this die hard game Sudoku Adventure. This true deli for puzzle lovers is full of great music and adds even more entertainment with its logic and captivating storyline. Tons of various enigmas are at your service. Develop your logic and reaction skills to achieve victories that fill your ego with so much proud! Play with hints and restart levels any time, only remember that puzzles seem never to repeat here, so that you could enjoy the game for a very long time. Download Sudoku Adventures absolutely for free and find out how fast and reactive your neurons are, and whether they are skilled enough to set Amy free from this flying prison!
Features
Tons of incredible puzzles
Full in-game explanations and hints on demand
Great storyline to follow
System Requirements
Windows 2000/XP/Vista/7
Processor 800 Mhz or better
256 Mb RAM
DirectX 8.0