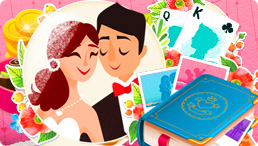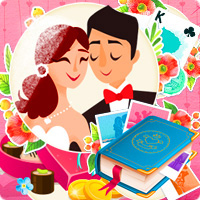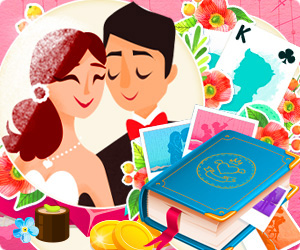 This game is brought to you by our sponsors. It is always free. NO TIME LIMITS!
You will be offered to install MyPlayCity Games Search Chrome Extension with convenient internet search.
Solitaire Match 2 Cards: Valentine's Day
Enjoy the amazing solitaire game in a holiday of love in the great game Solitaire Match 2 Cards: Valentine's Day! All of us would like to escape from the dull reality and have a rest. All people choose what they like most: some of them go snowboarding, others read books or play computer games. But playing bloodthirsty shooters or dangerous runners is not the best way to relax, all your nerves get excited and you feel even worse. So try to play another genre of games to have fun. Are you fond of captivating brain training games where you can boost your logical skills? In the board game Solitaire Match 2 Cards: Valentine's Day you get a unique chance to train your reaction, attention and quick wits. Valentine's Day is the favorite holiday of beloved and even you don't have a sweetheart, just play the game Solitaire Match 2 Cards: Valentine's Day and spend you free time with fun of matching the pairs of cards. Flirting, teddy bears, long moonlit walks, two hearts merged into one, and the sweetest, most romantic feelings are waiting for you here. Even if you have never played such games, look through the detailed tutorial and dive into the magnificent world of solitaire! The rules are simple enough, you can remove the cards of the same rank regardless of their suit. Besides ordinary cards you can see special golden cards and for removing them you receive 1 point. But if you manage to remove all of them before the cards return to the deck, you'll receive the maximum number of points. During the game you get bonus cards with special sign — if removed, they give you extra coins or bonuses. If you are in dead end, you can always use a bonus. There are 3 of them: Shuffle, Mulligan and Joker. By the way, all of them are sold in the shop. Shuffle will mix all the cards and place them to the game board again, Mulligan will cancel your last action and Joker will turn any card to Joker to help cards match. Enjoy 12 beautiful locations: A touching start, Study buddies, A happy childhood, solve packs of solitaires and get achievements!
Features
Various bonuses
Colorful high-quality graphics
Romantic atmosphere
System Requirements
Windows XP/Vista/7/8/10
Processor 1 Ghz or better
512 Mb RAM
DirectX 9.0