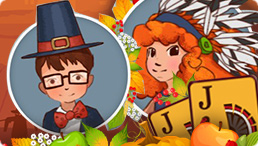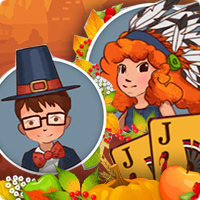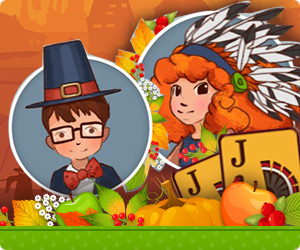 This game is brought to you by our sponsors. It is always free. NO TIME LIMITS!
You will be offered to install MyPlayCity Games Search Chrome Extension with convenient internet search.
Solitaire Match 2 Cards Thanksgiving Day
Enjoy the ravishing Thanksgiving Day and play solitaire in the game Solitaire Match 2 Cards Thanksgiving Day! Are you a true fan of relaxing games where you have no need to explore the dangerous dungeons filled with bloodthirsty monsters or think a lot about a complicated puzzle made of dozens of pieces? The game Solitaire Match 2 Cards Thanksgiving Day is for you! You have a unique chance to celebrate the family holiday of Thanksgiving and play the captivating solitaire. So launch the amazing logical game Solitaire Match 2 Cards Thanksgiving Day and boost your speed of reaction and quick wits! The game is a great gift both for newbies and professionals because everybody can find a difficulty there for their taste. Look through the detailed tutorial and start playing right now! The rules are simple; you can remove the cards of the same rank regardless of their suit. Besides ordinary cards you can see special golden cards and for removing them you receive 1 point. But if you manage to remove all of them before the cards return to the deck, you'll receive the maximum number of points. Cards from the deck are removed just like regular cards. You can return cards to the deck a limited number of times. Removing cards fills the multiplier bar: the higher the multiplier bar is, the more money you get. During the game you get bonus cards with special sign – a maple leaf, if removed, they give you extra coins or bonuses. If you are in dead end, you can always use a bonus. There are 3 of them: Shuffle, Mulligan and Joker. By the way, all of them are sold in the shop. So you can visit it wherever you wish. Shuffle will mix all the cards and place them to the game board again, Mulligan will cancel your last action and Joker will turn any card to Joker to help cards match. Explore the picturesque locations Settlers Village, New Lands, Great Canyon, Mountain Lake and others to have fun and rack your brains. Get the marvelous trophies and become the master of solitaire!
Features
Colorful trophies
2 levels of difficulty
Several bonuses
System Requirements
Windows XP/Vista/7/8/10
Processor 1 Ghz or better
512 Mb RAM
DirectX 9.0