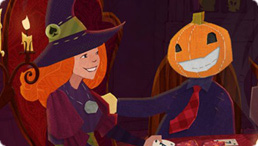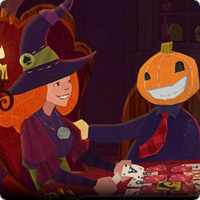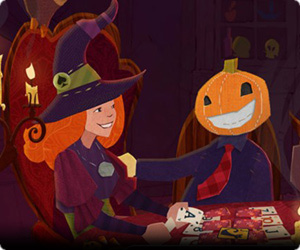 This game is brought to you by our sponsors. It is always free. NO TIME LIMITS!
You will be offered to install MyPlayCity Games Search Chrome Extension with convenient internet search.
Solitaire Halloween Story
Recall the reminiscences of the jolly Halloween in the extremely amazing game Solitaire Halloween Story! How have you spent Halloween? Dressed up in a costume of a witch or Dracula? Or maybe you have watched various horror films with blood-chilling plots? Such a nice pastime, isn't it? But I'm totally sure that you have hardly ever played games with a spooky atmosphere of Halloween. Let's fill up this gap and enjoy the astonishing game Solitaire Halloween Story! Everybody will like this game — both professionals and newbies because all people can find something for their own. Look through the detailed tutorial and start playing right now! The rules are simple enough — you can remove the cards of the same rank regardless of their suit. Besides ordinary cards you can see special golden cards and for removing them you receive 1 point. But if you manage to remove all of them before the cards return to the deck, you'll receive the maximum number of points. During the game you get bonus cards with special pumpkin sign —if removed, they give you extra coins or bonuses. If you are in dead end, you can always use a bonus. There are 3 of them: Shuffle, Mulligan and Joker — all of them are sold in the shop. Shuffle will mix all the cards and place them to the game board again, Mulligan will cancel your last action and Joker will turn any card to Joker to help cards match. A breathtaking adventure is waiting for you in the game Solitaire Halloween Story and several eerie locations are here to be explored. But collect the necessary amount of scores to unlock them and welcome to the Pumpkin Field, Crimson Night or Gloomy Moon! You will also get acquainted to the main characters of the game and the best Halloween companions: Witch, Werewolf and Dracula. You will also visit a sinister Witch's Cottage, Village of Ghosts and Werewolf's Fool Moon. But don't be scared, all of them are happy to see you! Have fun playing the game Solitaire Halloween Story and get lots of new Halloween trophies to your collection!
Features
20+ colorful trophies
Nice graphics
Halloween atmosphere and characters
System Requirements
Windows XP/Vista/7
Processor 1 Ghz or better
512 Mb RAM
DirectX 9.0