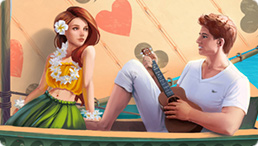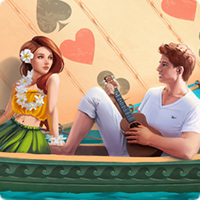 This game is brought to you by our sponsors. It is always free. NO TIME LIMITS!
You will be offered to install MyPlayCity Games Search Chrome Extension with convenient internet search.
Solitaire: Beach Season 3
Set off the relaxing journey to Hawaii and complete lots of layouts in Solitaire: Beach Season 3! Are you tired from the daily routine and want to escape to the paradise island even for an hour or so? Welcome to the beautiful logic game Solitaire: Beach Season 3! The rules are simple, you have a card deck with an open card below, and you are to find a card that will suit this exact card. So, if you have a Jack open, you should put either a Queen or ten to such a card to remove these cards from the game board. Besides ordinary cards you can see special golden cards. But if you manage to get rid of all of them before the cards return to the deck, you'll receive the maximum number of points. During the game you get bonus cards with special starfish sign – if removed, such cards will give you extra coins or bonuses. There are 2 modes for you to play: Newbie (where any level can be replayed) and Pro (where only entire pack can be replayed). At the very beginning, you are to look through the detailed tutorial and get acquainted with the game if you have never played such kind of games before. If you are in dead end, you can always use a bonus, keep it in mind. There are 3 of them: Shuffle, Mulligan and Joker. Shuffle will mix all the cards and place them to the game board again, Mulligan will cancel your last action while Joker turns any card to the card you want to help cards match. Visit the resort of your dreams in the game Solitaire: Beach Season 3! Several picturesque locations as Perfect morning, Deepwater submersion, Waterfall stroll, and Birdswatching are here for you to explore. Complete the layouts and win mouthwatering trophies such as Banana smoothie for getting maximum points in 6 packs in Pro mode, Coconut treat for maximum points for 12 packs in Newbie mode, and precious gifts as Sandy gift for receiving 100,000 coins and Moon butterfly for using Shuffle bonus 10 times. You'll get the chance to earn the trophy Ocean roar if you manage to get the maximum amount of points during one level. Immerse into the relaxing world of Hawaii and have fun in the game Solitaire: Beach Season 3!
Features
2 game modes
Dynamic gameplay
Lots of beach trophies
System Requirements
Windows XP/Vista/7/8/10
Processor 1 Ghz or better
512 Mb RAM
DirectX 9.0