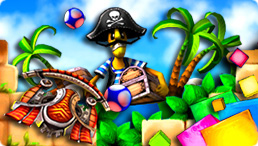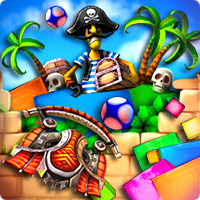 This game is brought to you by our sponsors. It is always free. NO TIME LIMITS!
You will be offered to install MyPlayCity Games Search Chrome Extension with convenient internet search.
Smash Frenzy 3
Welcome to the new incredible and surprising world of Smash Frenzy 3! You find the island inhabited by gambling pirates and smugglers. The ocean around is full of dangers as well as the waters are full of sharks. What else is there? Look - lots of objects. You need to control the ball-destroyer skillfully and aim at objects. When the ball hits them things are damaged and you score points. The better you shoot the more objects are crashed. When there is no stuff left you are transported onto another level of the game. Every time you get a new scenery, new characters and new sounds. There are a lot of options available for the ball. Some of them are positive, some aren't. For instance, you can get a cannon, a laser, a power ball and a bazooka - these ones are unsurpassed in their shooting speed and destroy objects with their super-power. While playing you need to cope with the coins falling from the top. Among other yummy bonus items are magnet effects, ball enlarging, bat enlarging, a lightning, even a thunderbolt. But you have to be more careful when you catch other signs - they won't bring you luck. Choose the spaceship you want to fly and go ahead. The main objective is to score more points and accomplish the tasks faster. The bat varies in size and the ball changes its speed. On the whole it's one of the best adventures among games that you've ever seen! Don't hesitate to try it and you'll definitely get a great amount of pleasure. The game is free to download and enjoyable to play, go ahead and shake the island!